By Laurie Hindman
Berthoud Recorder
Vegetarians need not forgo Berthoud restaurants; tucked away in their menus are several vegetarian options, as well even a couple for the true vegan (those who eat nothing that contains animal products, such as eggs or dairy).
The Jumping Bean has a breakfast burrito that is egg, potato and veggies, smothered with a meat-free green chile. For lunch try the "Pesto Veggie" focaccia sandwich: the fresh baked bread is layered with pesto, avocado, cucumbers, onion, lettuce, tomato and Swiss cheese. Or choose the "Veggie," served on your choice of bread, smeared with herbed cream cheese and piled with all the vegetables. Owner Wendy Castle said salads are also available, customized with your choice of greens and toppings. For those who eat the occasional fish, there is the tuna melt focaccia or tuna salad sandwich.
For lunch or dinner, the Retro Bistro has several chef-prepared, reasonably priced dishes. The Bistro is now open for lunch and for $8.95 you can help yourself to an elaborate buffet that has twelve different salads, most of them meat-free. The dinner menu changes periodically, but always contains vegetarian fare such as butternut squash ravioli, linguine primavera or eggplant Parmesan. The Bistro uses fresh, organic produce, often purchased at our own Berthoud Farmer's Market. Again, for the occasional fish or seafood eater, there are always fresh fish options, such as shrimp, scallops, salmon or mahi-mahi.
If you are craving something with a little spice, Santiagos has vegetarian options for breakfast, lunch or dinner. Veggie breakfast burritos are available every morning and for lunch or dinner, cheese enchiladas with the meat-free enchilada sauce or red salsa are a good choice. If you are a stickler, hold off on the green chile as it does contain pork and meat broth.
John Dough's pizza offers vegetable pizza or vegetable lasagna with a no-meat marinara sauce, as well as other meat-free sauces such as garlic and olive oil or Thai-chili. Their "healthy choice" menu contains items like the "Greek Pizza" — artichoke hearts, feta cheese, tomatoes, black and green olives, onions and red peppers drizzled with olive oil. The "Dough Piscopo," served with tomatoes, garlic, olive oil, spinach and green olives, is another yummy vegetarian choice.
The Lighthouse, located in the Grace Place Church, has salads, a garden burger, a grilled veggie wrap (grilled portabella mushrooms with roasted bell peppers and onions wrapped in a warm garlic-herb tortilla, with greens and a dollop of chipotle mayo) or a grilled cheese Panini sandwich. Breakfast items include pancakes and French toast (non-vegan as they do contain eggs), a veggie omelet or the vegetarian breakfast croissant.
Looking for fast food? Subways has a "Veggie Delite" sub sandwich with only 3 grams of fat or you can build your own sandwich or salad with fresh ingredients of your choosing. A vegan will have no problem finding lunch here with Subway's wide variety of salad makings.
Meat-free food of the Asian persuasion is right around the corner at New China Chan and is the only place in town offering tofu dishes: tofu with mixed vegetables, Szechuan Tofu, Kung Pao Tofu, Hunan Tofu, as well as a myriad of vegetable dishes, served with steamed rice, too numerous to list.
Even Grandpa's Café, Berthoud's favorite spot for hearty diner fare, offers veggie omelets, egg and cheese burritos, as well as a heaping plateful of pancakes (plain, strawberry or blueberry). For lunch there is the "Boca Burger," a veggie burger served with sweet potato fries, a grilled cheese and tomato sandwich, or a cheese quesadilla. Or course, the rich chocolate shake, or a slice of pie or cake, is meat free too!
Category:
News – Business
News Image: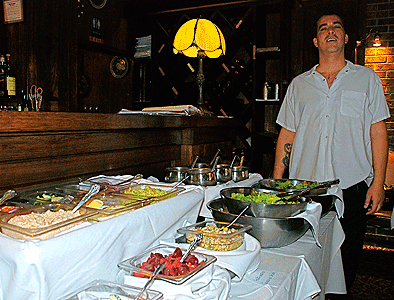 Long Description:
<p>Retro Bistro chef Boomer Coates stands before some of the vegetarian salad offerings at their daily buffet lunch. Monday&rsquo;s buffet included watermelon salad with feta cheese, red and Vidalia onions and mint, a Mediterranean couscous salad and a beetroot, apple and walnuts, as well as chef-prepared seafood salad and tuna salad. Co-owner Herve Lequien said they try to offer something creative every day.</p>
Category Lead:
Category Secondary Featured Story

Print This Post