By Ashlyn Bishop
Special to the Berthoud Recorder
For those who haven't been on a mission trip I want you to know that you never come back the same. There is something about putting away your luxuries, comfort and routine to serve others that impacts you in a way that you'll never forget.
I'm a traveler; I think I was born to be. Many of my travels have been personal, for vacation or what not, but they have never compared to traveling with purpose.
This summer I had the great opportunity of traveling with Grace Place to Madera, Mexico. We have a sister church there called Lugar de Gracia. Assisting with Vacation Bible School was one of our purposes among others. Now, it is only fair to mention that I've never been a babysitter and did not grow up with younger siblings so working with kids has never been my forte. However, that all changed in Madera.
Our VBS was called Boomerang Express and as you can tell from the title, it was set in Australia. We had outback decorations with kangaroos, koalas, snakes and boomerangs. We also had ocean decorations with blue fabric for water, fish netting and a large blowup shark, which they loved. The kids had a blast with singing, crafts, games and stories. By the end of the week there were 250 children up to age 14 coming, many of who have never been to church.
It amazes me every time I go on a mission trip how well and quickly you can connect with people when you don't even speak the same language. We fell in love with these kiddos and them with us. Mexico is known in the media these days for the drug problems there. Many of these children come from homes where the dad's are connected to that and still others come from families where they don't receive love and are abused. On one of the VBS days the main leader asked all the kids to join her in prayer for us and then afterwards they came to give us hugs. Around 175 kids almost pushing each other so that they could give us a hug and receive one in return! It was so beautiful and brought tears to many of our eyes because you don't have to know each other's language in order to know love.
There were many of the children that I connected with, but one in particular was a little boy named Hugo. Everyday he would yell out "Ashley, Ashley" until I noticed him, and then he'd smile (they never could quite get the "n" at the end of my name, but I didn't mind). The last day of VBS, Hugo and I played Frisbee until he had to go. I got teary when he left not knowing if I would ever see him again.
However sad it is to say goodbye it is also beautiful too. When you put your heart out there to serve someone else, sometimes you do have to say goodbye, but the moments that you take to truly love and help that person are the moments that change them, and you, forever.
---
Ashlyn Bishop is the current Mrs. Berthoud and is considering competing again for the 2010 Mrs. Colorado crown.
News Image: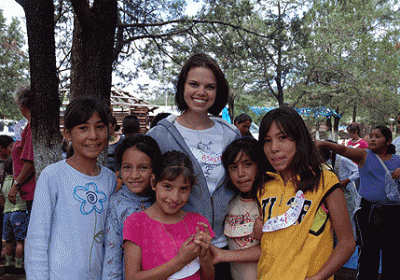 Long Description:
<p>Ashlyn Bishop surrounded by her new friends in Madera, Mexico</p>
Category Lead:
Category Secondary Featured Story

Print This Post