By Jamie Folsom
Berthoud Recorder
That empty lot on Fourth Street is on its way to becoming a new home, thanks to a grant to the Berthoud Habitat for Humanity from CARHOF — the Colorado Association of Realtors Housing Opportunity Foundation.
Berthoud Habitat Executive Consultant Anne Reichenberg said Tuesday the $1,100 grant will go towards building up the foundation on their third home, which is located on Fourth Street. "We'd love to thank CARHOF for their generosity over the years for funding our houses," Reichenberg said.

The project officially broke ground in April with excavation for the foundation starting in June.
Hoedown Coming Up
Tickets are on sale now for the Berthoud Habitat Hoedown Friday, Sept. 25 from 5:30 to 10:30 p.m. at Brookside Gardens and Events Center, 619 E. State Hwy. 56. There will be silent and live auctions, food, music and more. More info: www.BerthoudHabitat.org/eventcalendar.html.
Category:
News – Business
News Image: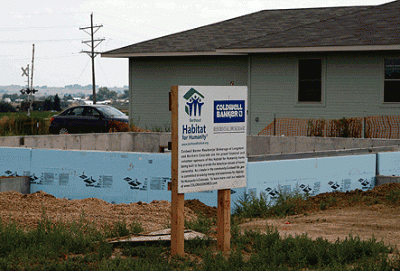 Long Description:
<p>The Fourth Street site of a new home being built by Habitat.</p>
Category Lead:
Category Secondary Featured Story

Print This Post