By Michael Hicks
Berthoud Recorder
WINDSOR — Mike King knows how this game works. The Berthoud boys golf coach isn't so concerned about his Spartans shooting the lowest score right now. He just wants his players to shoot a better score than they've been shooting.
That may not happen every time, like at Monday's Windsor Invitational at Pelican Lakes Golf Course, but the Spartans didn't shoot any worst than they have been, either.
Nils Hansen shot a 77 in leading Berthoud to an eighth-place finish at the 14-team invitational. The Spartans finished with 249, 25 strokes off the winning pace that Silver Creek set. Northridge was second with a 227, and Broomfield finished third with a 230.
"We're building on the little things and hopefully by the end of the season they will pay off," King said.
In other words, King is hopeful that the boys team recreates the success the girls squad had in the spring when it just worked on its game and didn't worry about anybody else's score until regionals, where the Lady Spartans qualified three players for the 4A state tournament for the first time in school history. The boys will be looking to do the same thing come Sept. 22 at Mariana Butte. But until then the regular season rolls forward.
So far Hansen's play is paying off. The German-exchange student has been the catalyst to Berthoud's play early this season. That said, King believes the best is yet to come for his junior golfer.
"As you can imagine he is getting accustomed to Colorado golf courses," King said. "He's getting better, but he's not quite there yet."
Fellow junior Nick Monchak followed suit with an 84, while sophomore Luke Whitfield fired an 88. Jesse Sommers (96) and Seth Vanderlinden (104) rounded out the scoring for BHS.
Cameron Harding of Northridge and Kyle Gertner of Sterling shot 70s to lead all golfers. Harding earned top medalist honors thanks to a scorecard tiebreaker.
---
WINDSOR INVITATIONAL
Monday, Pelican Lakes Golf Course
TEAM SCORES: Silver Creek 224, Northridge 227, Broomfield 230, Fort Morgan 234, Longmont 240, Sterling 246, Windsor 248, Berthoud 249, Thompson Valley 256, Roosevelt 260, Greeley Central 263, Windsor (B) 279, Frederick 282
TOP 5 INDIVIDUALS: Harding (Northridge) 70; Gartner (Sterling) 70; Burke (Silver Creek) 71; Scwark (Broomfield) 75; Bledsoe (Fort Morgan) 75
BERTHOUD SCORERS: Nils Hansen 77; Nick Monchak 84; Luke Whitfield 88; Jesse Sommers 96; Seth Vanderlinden 104
News Image: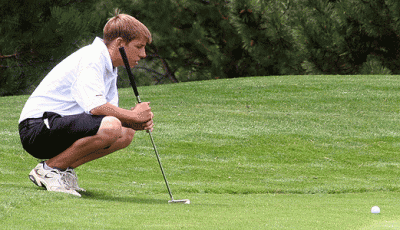 Long Description:
<p>Berthoud sophomore Luke Whitfield, lining up&nbsp;a putt earlier this season, shot an 88 on Monday as the Spartans finished eighth in the 14-team Windsor Invitational at Pelican Lakes Golf Course.</p>
Category Lead:
Category Primary Featured Story

Print This Post