By Jamie Folsom
Berthoud Recorder

How does Larimer County budget? That was the basic question at this month's citizen meeting Wednesday morning. Larimer County Commissioner Tom Donnelly and Budget Director Bob Keister sat down with several area residents, as well as Berthoud's Interim Town Administrator Gary Suiter and State Rep. B.J. Nikkel, to look at Larimer's "budgeting for results" process.
Keister explained the new process gives commissioners a chance to prioritize budget items within each category, such as law enforcement and public facilities, and then make their funding decisions within that context. The previous method was to make uniform cuts or increases across all departments and services.
But, he noted, having a more finely tuned process and making cutbacks now is essential, because they expect budget shortfalls –– "a huge reduction in 2012" — due to the economy, and falling property tax income. Keister said they are preparing for that drop off so they can "do a few things well instead of a lot of things poorly."
"We are using the criteria questions to help us rank our priority services and how to fund them," Keister said.
The budget picture also has to include state and federal program funding, so Keister explained it is difficult to predict many items, and yet, "We believe the citizens want us to make the difficult decisions, not to spread the butter evenly," he said.

Some funding is regulated as well as mandated, and those items take top priority. Keister added that keeping the county's good financial rating, for instance, requires 10 percent be held in reserve. The funds that are set aside show credibility for the county's financial management practices and help absorb short-term fluctuations in the total financial picture.

Rep. Nikkel asked about county finances online, similar to the standards the state now uses as a result of the "Taxpayer Transparency Act" she co-sponsored this year. Keister responded they are expanding their Web site to provide that kind of transparency. All expenditures and employee compensation numbers are online, as well as home appraisals, sex offender maps, and timely and accurate information from all county departments.
And, new features, such as a citizen comments forum, county update subscription service, informational videos, and public health reports on businesses are expected to be online by next week.
In addition to the budgeting process, citizens brought up their concerns on program alternatives for the justice system. Public safety as a category, and running the county detention center in particular, are high priority items. Law enforcement/public safety is 20 percent of the county's expenditures. One way commissioners propose to cut costs without the need for new tax support — voters rejected a mil levy measure last year — is to look at pretrial services.
Their ultimate goal, Donnelly explained is to cut down on the time low risk detainees spend in jail before trial is even set. The average stay before trial is 15 days, which costs the county $1,500 or more. Using other means to supervise arrestees, and supporting them through drug counseling, for instance, would cut down on repeat offenders, and keep down supervision costs.
Those at the meeting seemed receptive to the idea that those who could not afford good attorneys, or were not dangerous to themselves or others, would benefit more from such alternatives than time spent in jail.
Donnelly, who meets with Berthoud constituents on a monthly basis, said he will be attending a 10-county budget conference in September, and has scheduled his next breakfast in Berthoud for Oct. 28. His special guest will be Linda Hoffmann who will take questions on regulating horse boarding facilities.
For the full budget: www.Larimer.org/budget.
Category:
News – Community
News Image: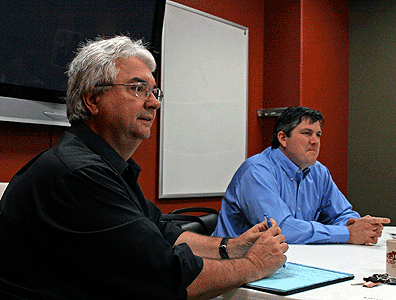 Long Description:
<p>Larimer County Budget Director Bob Keister, left, was the special guest at County Commissioner Tom Donnelly&rsquo;s monthly breakfast meeting with Berthoud citizens.</p>
Category Lead:
Category Secondary Featured Story

Print This Post