By Laurie Hindman
Berthoud Recorder
Most parents have found themselves at one time or another engaged in a no-win battle of control with their children. It could be over cleaning a bedroom or getting homework completed and often may involve the ineffective parenting techniques of lecturing, punishments, nagging or even bribery. Often both parents and children are left angry and frustrated and the pattern lives to rear its ugly head another day.
Turner Middle School is offering a parenting class to the community that helps parents break those ineffective patterns and instead teaches parents to enable kids to take responsibility for their own behavior and choices. The class, Becoming a Love and Logic Parent, is facilitated by TMS counselor, Ryan Smith, and is open to parents with children of all ages. Smith has been facilitating Love and Logic parenting classes for four years.
Smith said the goal of Love and Logic is to raise responsible kids that can think for themselves and make good decisions. This is accomplished, explained Smith, by a heavy dose of empathy and support from the parents, followed by the parent allowing the child to make choices and experience the natural consequences of their behavior.
"An example might be when a child fails an assignment. You can punish the child for not studying or come into the school and meet with the teacher to make a plan to help your child. Or you can have a lot of empathy, 'gee that's really tough', and then ask, "What are you going to do about it?"
Smith explains that the goal is to demonstrate to the child that she has your understanding and support, but that you believe she is capable of handling the situation. "When you lecture or yell you really aren't telling them something they don't already know. The goal is for them to learn from their mistake and make a different, better choice next time."
Often a mom or dad's parenting style resembles more of a "helicopter," (hover and rescue) or a "drill sergeant" (issue orders and exact punishment). Smith said in the Parenting with Love and Logic method, the parents act as a consultant — there to give advice when needed or asked but, when possible, let the child make the decision and take ownership of the result.
"Many parents come and see me with concerns about their child's self-esteem," said Smith. "Self-esteem is not something you can teach. Children gain self-esteem through the process of encountering difficulties and mastering them, sometimes by initially making mistakes or bad choices. A parent's role is one of support — I believe you can handle it, you can fix this."
Smith admits it is not always easy to change a pattern that has been in place for years. "It's a complete mental shift for many parents, but as hard as it may be, pick one thing to change and it will make life easier.
Jennifer Carter, a parent of three teenagers, took Smith's class last year and said it was very helpful. "As parents you get tired of yelling and nagging all the time — it usually doesn't work." Carter said one of the biggest lessons she learned from Love and Logic was to choose battles wisely. "Sometimes it is just not worth the fight. It was a relief to say, 'this is little. I'm going let them live with their own mistakes'."
Parenting with Love and Logic is a research-based, parenting philosophy and technique that has widespread success. Developed by Jim Fay, who spent 31 years as an educator, Dr. Foster Cline, a renowned adult and child psychiatrist and Dr. Charles Fay, a psychologist and consultant to schools, parent groups and mental health professionals, the popular program has garnered praise world-wide from both parents and educators.
Becoming a Love and Logic Parent is a six-week class to be held on Mondays from 6 to 8 p.m., beginning Sept. 14, at the Turner Middle School library. The cost is $20 and includes a book. Smith said the class is also open to past Love and Logic "graduates" who may want a refresher and are welcome to stop in for any of the session. For more information or to enroll in the class, call Ryan Smith at 970-613-7400.
News Image: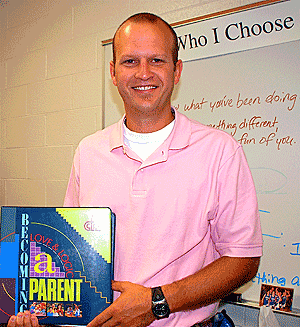 Long Description:
<p>Turner Middle School counselor Ryan Smith has taught &ldquo;Becoming a Love and Logic Parent&rdquo; for four years. The popular program is open to the community and is a six-week course beginning on Monday, Sept. 14, from 6 to 8 p.m.</p>
Category Lead:
Category Primary Featured Story

Print This Post