By Michael Hicks
Berthoud Recorder
GREELEY — Clouds hovered around Greeley West High School on Tuesday afternoon, and showers poured just a few short miles away, but it was Berthoud's Danielle Wikre who rained on the parade that was the high school varsity softball season opener.
The junior third baseman hit a pair of home runs and scored four times as the visiting Spartans scored a 14-0 victory over Greeley West, which was halted after five innings due to the 10-run mercy rule.
Wikre also doubled in the second inning and Berthoud collected 15 hits total, most of them coming off Greeley West starter Lexi Aguilar. Aguilar was finally pulled in the fifth inning for a reliever, but the damage was done by then.
"When one person starts we all just feed off of it. That's what we need to do the whole season," said Wikre, who also walked in Berthoud's game-closing five-run fifth inning.
When Wikre and her teammates weren't driving in run after run, senior pitcher Amy Krause was holding the host team in check. She allowed just two hits and struck out five. Only Haley McDonald in the second inning and Marissa Serna in the third connected for hits off the Berthoud ace. Krause only retired the side once in five innings as Berthoud allowed three runners to reach on error, but Greeley West stranded six runners on base including two each in the second and third innings.
Krause was spotted a 4-0 lead even before she took the mound, a fact that was much-appreciated. "It's very comforting," she said of having the early lead.
Berthoud rolled from there. Krause even helped her own cause with four hits, including a double and triple, and she scored three times. In all, Berthoud collected eight extra-base hits. Kaitlyn Bending added three runs.
"You always want to get the first game win. We knew Greeley West would give us their hardest. So we had to come out with our hardest and not take anything for granted," Krause said.
Berthoud definitely didn't do that. The visiting Spartans just took the victory, the first of what they hope will be many this season.
News Image: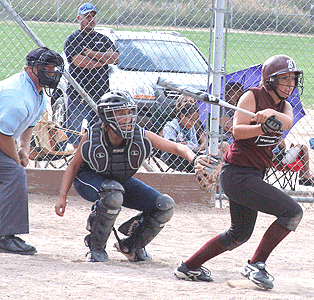 Long Description:
<p>Victoria Puchino singled and scored a run in the fifth inning.</p>
Category Lead:
Category Lead Story

Print This Post