By Dani White
Berthoud Recorder
The concept of a festival is hardly a novel idea. The notion of festivals dates back centuries. The definition has evolved over the years, but the key elements remain the same; community, culture and celebration. Downtown Longmont has become a hot spot for exciting summer events and the site of the Festival on Main. This year's event has recently proven to be one such collective revelry. The annual street festival provided lively activities, events, vendors and dining. It spanned the lengths of Main from Third Street to Longs Peak Avenue.
This year's turnout exceeded last year's record-breaking crowd of 17, 000 fun-seekers by roughly five thousand. The 2009 Festival on Main held on Friday evening, Aug. 28 was a medley of entertainment for all ages. The attractions included grounded airplanes tours, Irish dancing, whimsical street performers, a miniature train ride, face painting, fortune-telling, a stilt-walker, a bungee trampoline, an inflatable jumping castle, fire-dancers, gymnasts, Longmont's Idol and a main stage of free live music. The local band, Past Due, performed just before the infamous, headliner, Raising Cain. There was a certain magical atmosphere on Main as people meandered the city blocks by the light of streetlamps and store windows.
The energizing sounds of musical variety poured down Main Street. An improvised side stage consisting of an open-sided tent hosted a mirthful, mock 80's head band called the More Heads, who were clad with funky, mullet-esque wigs, neon neoprene leggings and oversized furry boots. A few blocks down the street on the main stage, Past Due was wrapping up and making way for Boulder County's Raising Cain.
The lively and noticeably talented band had the festivalgoers dancing in the streets to a stream of excellently rendered cover songs. The sounds ranged from what the band declared "southern fried rock and roll" to the lighthearted pop sounds of Jason Mraz. The band joked with the audience exclaiming, "we tune because we care" as they switched instruments to play a little swing music. Raising Cain's musical diversity is a definite crowd pleaser. The live music was just one colorful strand in the extensive embroidery of the event. The 2009 Festival on Main was an enriching and truly jovial community woven affair.
News Image: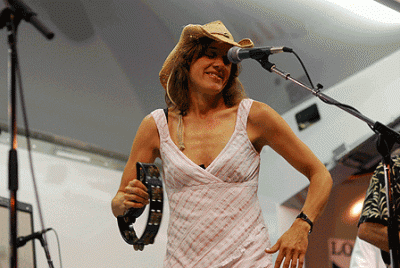 Long Description:
<p>Boulder County&rsquo;s Raising Cain features Anya Thompson on lead vocals.</p>
Category Lead:
Category Lead Story

Print This Post