By Laurie Hindman
Berthoud Recorder
Gary and Laurie Brandvold have five grown children, two from Gary's first marriage and three from Laurie's first marriage. After ushering the last one out the door to college, they enjoyed a year of "empty nest" before concluding that maybe their Berthoud Lake home was a little too empty.
Neighbor Alice Von Seggern, area coordinator for the Youth For Understanding (YFU) foreign exchange student program, had approached the Brandvolds last year about hosting a student, but they declined — but this year they were ready.
"We had considered it previously, but we had two kids at home, both playing high school volleyball and were never home," said Laurie Brandvold.
The Branvolds are the host family for Theresa Bahr, a student from Linne, Germany, a village of 500 people. Laurie Brandvold is a math teacher at Berthoud High School, and Gary is an engineer for a Longmont company, Conduant. The Brandvolds said they are thrilled to open their home to Theresa.
And the feeling is mutual. Theresa said traveling to the United States was a "dream come true." She said she was nervous about coming here to live, but excited — an excitement her parents shared.
"It is an adventure for them, too. My mother wanted to be a foreign exchange student when she was 16, but couldn't do it. She is enjoying seeing me do it." Theresa stays in touch with her parents, and her 14-year-old sister, through Skype, a software application that allows videophone calls over the Internet.
Gary leans forward and asks, "Has it been what you expected, so far?" Theresa said she had some idea of what it would be like before she arrived because she had been through an orientation program in Germany. One thing she did not expect, though, was the structure of American high school.
"In Germany every class has the same students. Here, students of all grades can be mixed together. Also, at home you can't choose your classes. Everything you take is set for you." She was excited to have the opportunity to take creative writing, drawing and psychology classes. "I love everything about art."
Another key difference is that German schools are focused on academics; there are no sports programs or after school clubs and the school day ends by 2 p.m. Sports are available through clubs and recreation programs outside of school. Bahr played volleyball with a club in Germany and is playing on Berthoud's JV team this year.
Like most newly arrived foreign exchange students, Theresa has also found the English language confusing at times. "I learned British English, not American. Often students speak very quickly, and I am not familiar with all their expressions."
The psychology class has proved especially difficult. "There are so many words I don't know," said Theresa. "Biology is not so difficult because some of the words are similar in German or French [Theresa is also fluent in French]. But some of the psychology words I never heard of before in my life."
Laurie said Theresa speaks beautifully, and others may not realize she doesn't always understand what is said. "Her English is so good it is easy to forget that she may not get everything."
Theresa noted that another lifestyle change for her is the time spent in a car. "At home, I take the bus everywhere I want to go or I ride my bike." And, in Germany the streets are bike-friendly with all roads having adjacent bike lanes. She is also amazed by the size of the cars most people drive. "They are so huge!"
Gary Brandvold said food is something that has proved interesting. "When we walked into King Soopers the first time, the expression on Theresa's face was so funny. She was shocked at the size of the store."
Theresa explained at home they go to the bakery for bread and the butcher's for meat. They don't have mega stores that carry everything, and no one eats processed bread.
Food has also been the source of some confusion. "When you learn a new language you learn the basics," said Laurie. "The actual vocabulary of food can be very different." For example, when Theresa first arrived Laurie thought she said she didn't eat meat and began researching vegetarian dishes. What Theresa meant was that she didn't eat beef. "It took us a couple days to sort that out," laughed Laurie.
With Theresa's help, Laurie has been experimenting with German cooking. "Theresa's mother sent me a Bavarian cookbook. One side is in German and the other side is in English. Theresa and I worked together one day and made spaetzle," a traditional German noodle dish.
When asked what she missed most besides her family, Theresa smiles. "Sweets — I miss German chocolate. And my bedroom," she added.
"I imagine you would," said Laurie. "It's hard to move into a strange home and a strange room and feel like it's yours. We have been talking about painting it so Theresa can make it more her own."
The Brandvolds have taken Theresa hiking in Rocky Mountain Park, to neighborhood backyard barbeques and to Laurie's large family gathering at Jackson Lake. They also plan to take Theresa, an avid snowboarder and skier, to the Colorado slopes this winter. "Theresa likes doing outdoorsy things, like us. That is one way Alice connected us," said Laurie.
Feeling at home and making friends are hurdles the exchange students typically over come with time, but it can be lonely in the beginning. "There is little time for talking at school," said Theresa. "At lunch most students my age go out to lunch in cars. After school there is volleyball, and we are busy. Then we go home."
Laurie points out that an added challenge is Berthoud's small size, and most BHS students have been in school together for years. Still, Theresa said teachers and students are friendly and helpful. "Everyone has been very welcoming."
News Image: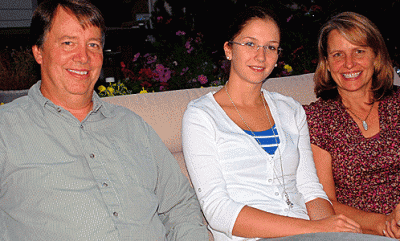 Long Description:
<p>Gary Brandvold, German exchange student Theresa Bahr and Laurie Brandvold, a BHS math teacher, are a family of sorts for the 2009-10 school year. The Brandvolds are a host family for Theresa, a foreign exchange student with the Youth for Understanding program.</p>
Category Lead:
Category Secondary Featured Story

Print This Post