By Shari Phiel
Berthoud Recorder
After two long and often challenging weeks, four Iraq war veterans completed a very special training program. But this graduation came with more than just a certificate. These four took home with them their new service-dogs trained by the Puppies Behind Bars program, which works with inmates in six New York correctional facilities to train service dogs for veterans returning home from Iraq and Afghanistan.
Nearly 100 invited guests, including U.S. Rep. Betsy Markey and actor Jon Huertas from the ABC detective drama "Castle," gathered at the Berthoud Area Community Center on Saturday, Aug. 29 to celebrate the completion of the pairs training and the beginning of their new lives together.
The four veterans and their canine counterparts are: Aaron Ellis, a former frontline medic in the U.S. Air Force, and Dale; Jacob Hyde, who served as a battlefield medic in the U.S. Navy, and Mya; former Army medic Seung Yun Kim and Happy; and Christopher Fuchs, who served in the Army National Guard, and Athena.
"They returned from their service in Iraq with the signature injury of this conflict, post-traumatic stress disorder," said Janet Bayless, a trainer for the Puppies Behind Bars program. "It's an invisible wound but no less painful or debilitating than the physical injuries."

She added, "These four are true profiles in courage and determination."
Bayless also recognized the courage it took for all four veterans to complete the program. Hailing from all across the country, each has struggled to adjust to life back home after returning from the war in Iraq. Being out in public or in crowds, nightmares and flashbacks are all common experiences for those with PTSD, making every day living a challenge. But with their service dogs at their side, they now they look forward to getting back some of the pieces of the lives they left behind.
"It's incredible to see what dogs can do and how much they help. I notice a difference in myself. It's really great," said Fuchs, who spent just under a year serving in Iraq.
Fuchs began to notice the changes Athena was bringing about, even in just two weeks. "I'm a little bit more outgoing now. I actually go out in public and do some things, as opposed to before where I would rather just sit at home."
Guest speaker Markey also commended the veterans for their courage and their willingness to share their struggles with PTSD with the public and other veterans. Markey recently introduced the Honoring Our Nation's Obligations to Returning Warriors (HONOR) Act, which would provide active duty, reservists and National Guard veterans with access to mental health counseling programs.
"It's necessary for us to be proactive, to make sure that we are doing the screening that's necessary when veterans return home, and then providing our veterans not just with the physical help, but the mental health and educational benefits when they return," she stated.

According to an April 2008 report from the RAND Institute, an estimated 20 percent of all veterans returning from Iraq and Afghanistan have symptoms of PTSD or major depression.
The afternoon's other guest speaker, Jon Huertas, is a veteran himself and spent eight years in Special Forces. After hearing about the Puppies Behind Bar program, Huertas knew he had to get involved.
"These dogs are rehabilitating people their whole lives," said Huertas, noting the amazing gift dogs give with their unconditional love. "It's about love."
News Image: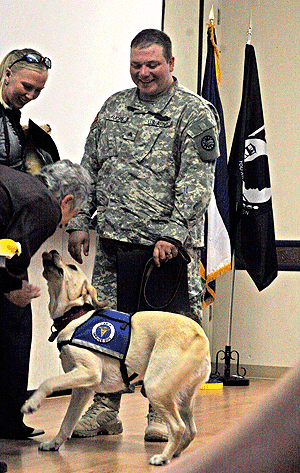 Long Description:
<p>Puppies Behind Bars trainer Janet Bayless gets playful with new service dog Athena as Iraq veteran Christopher Fuchs and his wife Ann watch at the graduation ceremonies.</p>
Category Lead:
Category Secondary Featured Story

Print This Post