By Laurie Hindman
Berthoud Recorder
As of Monday, Mountain Avenue restaurant J.B. Clymer's has new owners and management. Although the name will remain the same, dramatic changes are in store, starting with freshly painted, interior walls and a good cleaning.

"We really want to spruce it up. More changes are coming," said new co-owner, Shari Nixon. Nixon said they are getting estimates for exterior paint and have already put together a short menu, available now. An expanded menu will be available after their grand opening celebration in early October.
"We are offering American food, sometimes called comfort food," said Nixon. Current menu items include hamburgers, "built the way you like," spaghetti, shrimp scampi, chicken tenders, salmon with cucumber dill sauce, shrimp fajita pastas and burritos, as well as nine different sandwiches. Nixon said there will be many healthy menu items, such as salads, on the October menu. Clymer's is open for lunch and dinner, but starting in October, will be open for breakfast as well.
Nixon bought Clymer's with her mother Sharon, who has over 30 years in the restaurant field. The Berthoud residents say the business is "all in the family": Shari's daughter, Alice, will be waiting tables; Brent Denny, an extended family member is the chef, Sharon's son Ed is the "sous chef;" Shari's husband, Bob is bar manager; and Sharon's daughter-in-law, Shelly, is hostess and assistant manager.
Shari Nixon explained they decided to keep the name due to its historic significance; however, they want the town to know that the restaurant offers a family friendly menu and environment. "Our goal is have good prices, delicious food, and great customer service."
Category:
News – Business
News Image: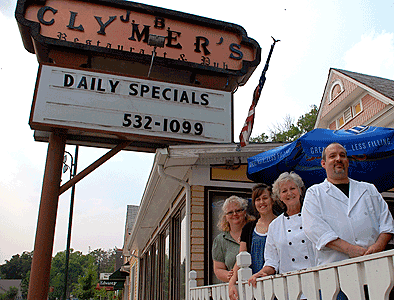 Long Description:
<p>The new J.B. Clymer&rsquo;s will offer comfort food at reasonable prices with a family-friendly atmosphere. From left, co-owner, Shari Nixon, daughter Alice Nixon, mother and co-owner Sharon Nixon, and extended family member and chef Brent Denny.</p>
Category Lead:
Category Primary Featured Story

Print This Post