By P.J. DiPentino
Berthoud Recorder
Children returning to the roost can be a difficult time for any parent. Eighteen years go by and then the children take off to explore all the opportunities life has to offer, although their leaving can be a very difficult and sad time for many of us.
As parents all over the country drop their children off at college this weekend I am welcoming my oldest back home. James was you're a typical first child. Always testing Mom and Dad; he seemed to be into everything. He was one of those kids who pushed all of my buttons and gave me an education in raising children.
When he was a teenager he came to me and said he wanted to join the Marines. At first I was a little leery about his choice but stood strong behind his will to become a soldier. After graduating from high school on a Friday, James left for boot camp just three days later to begin his military career.
After completing his training James became a sniper and eventually found himself in Iraq. He made it almost seven months in Iraq but fell ill to a local virus that nearly killed him. He was sent back home and healed physically. Mentally he was in a different state of mind. He had a terrible time adjusting to life stateside and often found himself on the wrong side of the law. Eventually he broke down completely and was sent to a hospital for evaluation. The military doctors diagnosed him with PTSD –– post-traumatic stress disorder.
He was put on a treatment program and discharged from the Marines after 5 ½ years of duty eventually ending up back with us here in Berthoud. James still struggles with his PTSD but understands now what his problems are. James represents thousands of military people who will be reintroduced into society after serving our needs at war. They have put themselves on the line for our freedom and now we must welcome them home with an understanding of what they have gone through.
The government has returned a damaged soul to my house, but not a lost soul. We will support and help him through the upcoming tough times and we will never let him feel that his service was for nothing.
Last year my second son Patrick joined his older brother and joined the Air Force. Ending up at Pederson Air Force Base as a security force specialist, he is close to home and we see him as often as possible. In November, Patrick will leave for deployment –– my second child to go to war. We are very proud of him but I will not stop fretting over his safety until he returns home.
It is important that as citizens we never forget the kids who are across the ocean putting their life at stake for our freedom. They are the true American heroes and should be taken care of when they return just as they took care of us when they left. I am delighted to have my boy back home where he belongs, but will be losing a lot of sleep until Patrick returns. Next time you are walking down the street and you see a soldier, stop and tell him or her thank you. They need to know we believe in them and are grateful for all they have sacrificed for our safety and welfare.
Welcome home Son.
News Image: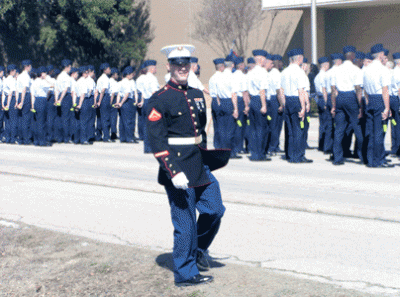 Category Lead:
Category Primary Featured Story

Print This Post