Markey Continues to Note Concerns on Reform
By Jamie Folsom
Berthoud Recorder
Some were there with point-by-point notes, and others came hoping to just say their piece and have a seat, but most of the 200-plus District 4 citizens who attended U.S. Rep. Betsy Markey's health care forum at Johnson's Corner Tuesday were glad to have the chance to discuss the issue.
Markey's Congress on Your Corner sessions are winding down, and by now most people have a sense that Markey is listening to their concerns — even her detractors. But, there are still those who have doubts about what the health care reform package will actually include. Among them is Rick McNeill from Longmont, who went in with questions on funding reform.
"Where is the money going to come from if we're already in debt?" he asked. Part of reducing costs and jumpstarting the program, Markey responded, will be to add 11 million people to the Medicaid system. McNeill left the session with lingering concerns that adding so many to the system would only create a higher demand for fewer physicians. "I'm not sure I'm for it or against it … where are the doctors going to come from?"
Many expressed support for exploring free market solutions. Some suggested that insurance tied directly to employment made no sense, but were skeptical of systems like the Veterans Administration because of limited coverage. And although tort reform seemed to be a common concern, possible solutions for that problem have so far been vague from lawmakers, including Markey.
Some who support the public option made the analogy to other public services such as law enforcement and public education. But for others, health insurance is less like schools, and more like auto insurance where a person's age, driving record and type of car weigh into the premiums paid. One woman remarked: "We're not all the same. That's insurance, and I want the choice."
News Image: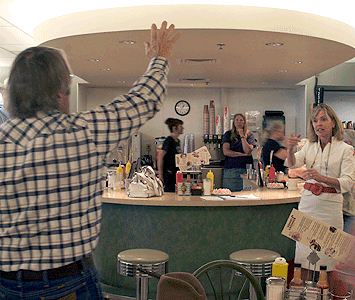 Long Description:
<p>Congresswoman Betsy Markey met with more than 200 4th District constituents at <br />Johnson&rsquo;s Corner Tuesday morning. Among the most popular ideas vetted by attendees were access to coverage similar to Congress&rsquo; health care plan, exploring free market <br />solutions and giving people options on care plans.</p>
Category Lead:
Category Primary Featured Story

Print This Post