By Laurie Hindman
Berthoud Recorder
Over the past 10 years, as citizens across the nation have focused more and more on green living and reducing consumption of fossil fuels, solar panels and even mini-wind turbines have been cropping up on rooftops and in backyards in mountain towns and suburbia. Berthoud High School art teacher, Jennifer Quick and her husband Pete, having been "living off the grid" before the phrase was popularized. In their mountain home, northwest of Fort Collins, they have lived with no dependence on public utilities for 16 years.
"We wanted to live in the middle of nowhere," said Jennifer Quick, "but living off the grid was not in the original plan." Quick explained that because the area where they chose live was so remote from power sources it would have cost about $60,000 per year to bring utilities to their home, not including the monthly bills or applying for easements — "It was overwhelming," Quick concluded.
Fortunately Quick's husband, Pete, knew a little about solar power and began doing the research. "It started out as our 'plan B,' but turns out it was our 'plan A. I am glad we did it that way."
The Quick home is about 2,500 square feet. "We pretty much live in one half and the rest is storage and shop." They have 14 75-watt and six 150-watt solar panels for a total of 20 panels. They also have a wind generator that in a 27-mph wind will generate 400 watts of energy.
"You can't tell when you walk into our house, that it is different from anyone else's," said Quick. "We have a thirty-one inch, flat screened TV, three laptop computers and one desk top, video games, stereo—most of the electronics you would find in the average home." Quick said the exceptions are microwave and toaster oven. "They suck too much power and we really don't need them."
Propane fuels the dishwasher, refrigerator, oven and dryer; The Quicks use about 1,000 gallons of propane per year, a fuel that Quick said is cleaner burning than gas. For heat they use an EPA-approved wood burning stove and for the really cold days, propane-fueled baseboard heat. Their open floor plan helps to quickly distribute heat.
The Quicks have two children, a 12-year-old son and a 9-year-old daughter who attend school in Fort Collins. Pete Quick is a maintenance supervisor at Colorado State University. "Travel time may seem like a lot," as it takes Quick about 45 minutes to an hour to commute to BHS, "but we don't take a lot of little trips. No going out for fast food, no emergency runs to the grocery store."
According to Quick, organization is key to life in the mountains. "Because of the distance, we have to plan ahead. There are no last minute trips to the store for a school project. When we pick up the kids we ask, what do you need for school tomorrow? They have gotten very good at being prepared."
Preparedness is critical when living in the mountains. The Quicks have a "huge" pantry well stocked with dried and canned goods. They have a back-up generator and make sure the propane tank is full. "We have gotten seriously snowed in before where we had to wait four days for a bulldozer. That's the downsides."
The upside? "We get to fish, hike, live among the wildlife, and have incredible views. We really have the best of both worlds. We have work we enjoy, town activities, friends, school, but at the end of the day we come home to a place that is beautiful and peaceful."
Quick said it is a challenge to live off the grid. "You have to really pay attention to the weather and monitor your usage based on that. On a cloudy day you have to cut back on power that you use that day. In the summer we have more power available because the days are longer. You live close to nature and you never take anything for granted."
To save power the Quicks have all electronics plugged into power strips that are turned off when they leave the home and at night. "We have no phantom loads, no VCR clocks blinking. Everything is off."
Quick said that while life off the grid is not for everyone, there are many energy-saving measures that the average family can take to cutback on energy consumption and utility bills. "The average person can turn off all electronics at night, except the refrigerator, by using power strips." Quick also recommended drying clothes — "at least towels and jeans" — on outdoor clothes lines or indoor drying racks. Other easy steps are changing standard incandescent light bulbs to compact fluorescents, keeping the freezer full, when possible eliminating a second freezer or fridge, wearing clothes more than once, taking shorter and fewer showers, and simply turning off lights when you leave a room.
"What people need to realize is that they can change little things in their lifestyle and make a big difference. When you get your power from the city it is too abstract. You don't always think about waste or how much you are consuming, but when you literally watch the lights go out, you are forced to focus on lifestyle."
News Image: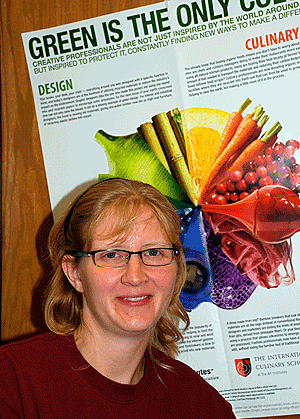 News Image: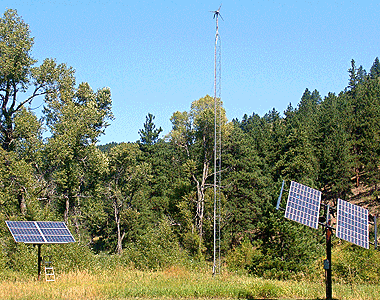 Long Description:
<p>BHS art teacher Jennifer Quick and her family live &ldquo;off the grid&rdquo; in the mountains northwest of Fort Collins. The Quicks live independent of public utilities, generating power for their home through solar and wind energy.</p>
Long Description:
<p>A wind energy generator and three of 16 solar panels on the Quick property that help power their mountain home.</p>
Category Lead:
Category Primary Featured Story

Print This Post