By Deborah Huth Price
Berthoud Recorder
Last week, I led a workshop for a group of master naturalists from the City of Fort Collins. As always, I came away rejuvenated by their energy. They teach me as much as I teach them. These volunteers spend hundreds of hours leading programs in natural areas for school groups, families and private groups, and they bring their own enthusiasm and curiosity to each outing.
Enjoying the outdoors is one thing –– sharing what you know with others and continuing the learning process on the way brings an even greater reward. Larimer County Natural Resources and the City of Fort Collins Natural Areas Program both have excellent volunteer opportunities that provide avenues to explore the outdoors, learn more about the environment and meet a wide variety of other volunteers with varied interests and backgrounds.
C.J. Cullins, Volunteer Program Coordinator for the Larimer County Department of Natural Resources, says that since she was hired in January the county has, "gone straight into a strategic planning process inclusive of creating policies and procedures, a new volunteer database … all in an effort to provide a better, more organized volunteer experience."
Cullins reports that in 2008, volunteers donated nearly 30,000 hours to parks and open spaces, equating to over $400,000 of donated time and energy. Volunteer opportunities range from providing public programs and guided hikes to assisting with other projects at various open spaces.
Upcoming volunteer opportunities with the county include a tree planting project in October at Horsetooth Reservoir and a prairie dog monitoring project at several sites in September and October.
The City of Fort Collins Natural Areas Program also provides extensive opportunities for volunteers to get involved. Master naturalists complete a 50-hour training, offered each spring, that prepares them for leading hands-on field trips and public programs. If speaking in public is not your thing, master naturalist assistants provide support in a variety of ways.
Other opportunities with Fort Collins include trailhead ambassadors (who welcome visitors and answer questions), volunteer ranger assistants, gardeners and group projects such as weed pulling or litter clean up.
Fort Collins properties range as far south as Bobcat Ridge Natural Area in Masonville to the newly opened Soapstone Prairie near the Wyoming border.
Education is a life-long process. Even as an environmental educator, I am constantly learning more about nature and how we interact with the natural world every day. I am also aware of how much I still have to learn, and amazed that I have the benefit of incredible volunteers who walk with me down that path.
---
To get involved:
Larimer County Natural Resources, C.J. Cullins, 970-679-4552, ccullins@larimer.org.
Web site: www.co.larimer.co.us/naturalresources/volunteer
City of Fort Collins Natural Areas Program, Sue Kenney, 970-224-6118, skenney@fcgov.com (for Master Naturalist program); Susan Schafer, 970-416-2480, sschafer@fcgov.com (for all other volunteer opportunities).
Web site: www.fcgov.com/naturalareas/volunteers.php
---
Deborah Huth Price is education coordinator at Bobcat Ridge Natural Area near Masonville and science educator at the Fort Collins Museum & Discovery Science Center.
News Image: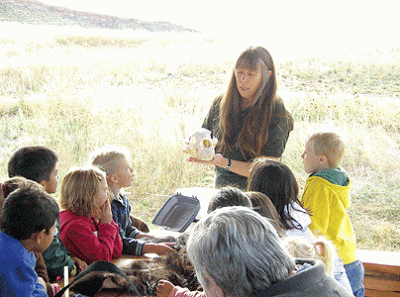 Long Description:
<p><span style="font-size: small;"><span style="font-family: arial,helvetica,sans-serif;">City of Fort Collins Master Naturalist Kimberly Tamkun shows a bear skull to kindergarten students visiting Bobcat Ridge Natural Area.&nbsp;&nbsp; <br /><br /></span></span></p>
Category Lead:
Category Primary Featured Story

Print This Post