By Shari Phiel
Berthoud Recorder
Last week's guest speaker at the Thursday, Aug. 27 Berthoud Area Chamber of Commerce luncheon was none other than Gary Suiter, Berthoud's interim Town administrator who gave the 30 or so attendees present some background information on his personal life, how he came to Colorado and what he hopes to accomplish during his time in Berthoud.
Suiter was born in San Francisco but spent much of his early childhood in Omaha, Neb., before moving to Las Vegas, Nev., to attend high school. "As soon as I graduated from high school, I got the heck out of Vegas," Suiter laughingly noted.
He then moved to the Centennial State to attend college at the University of Colorado at Denver. After graduating he began working in government, first as a planner and later took a position as an administrator in Alamosa County. "From he "jumped up to the northern Front Range," Suiter said of the position he then took as city manager in Evans.
"These are familiar stomping grounds for me," he stated. "It's great to be back. My whole family loves this part of the state."
Suiter then moved with his family to Snowmass Village on the Western Slope where he served as the town administrator. "There I got to learn about resort issue and the resort economy in the state," he said, "along with dealing with big developments, annexations, and real growth and those sorts of issues."
He later formed his own consulting company, Suiter and Associates, which allows his to work with various communities and town boards with a primary focus on strategic planning. Before coming here, Suiter served as the interim town manager for Minturn, where Jim White, Berthoud's former town administrator is now serving as town manager.
"We ended up trading places, which is a real novelty," noted Suiter. "I get a call from the trustees that says 'Hey, can you come down here and do the same thing for us?' and I said sure, I'll come and talk to you."
Suiter noted that he very much enjoys working with smaller communities because "it is a place where you can make an impact and really get things done."
While the Board of Trustees continues to look for full-time replacement for White, Suiter will continue to focus on the main issues the Town is currently facing and keep things on track.
The first issue he hopes to address is the continuing quality issues with Berthoud's water. Recent algae blooms at the water storage reservoir have caused odor, taste and even some health concerns for many residents.
"We have a shallow reservoir here … and it grows algae," Suiter stated, who is now bringing in CDM Engineering to look at the water treatment system and make recommendations for addressing specific issues along with providing suggestions for the overall process as well.
The interim administrator is also working on the new roundabout project at First Street and Colorado Highway 56. Mountain Constructors was awarded the bid by the trustees on Aug. 4 and should begin work shortly. Suiter noted a pre-construction meeting was scheduled for the afternoon of Wednesday, Sept. 2 and more details would be available following the meeting.
Also in the works is the re-hiring of former economic development consultant Stephanie Salazar to work with the Board of Trustees and the Berthoud Economic Resource Team. "I worked with BERT to develop a scope of work for that, to sort of pick up where we left off," stated Suiter adding the BERT team is "very motivated, very into what they're doing, and excited about the direction we're going."
The search of a full-time replacement for the town administrator position continues to move forward. Interviews with the top candidates were to have taken place this week, but when two of the three candidates selected pulled their names from consideration the interviews were postponed. Suiter noted he has no problem sticking around until a suitable replacement is found.
News Image: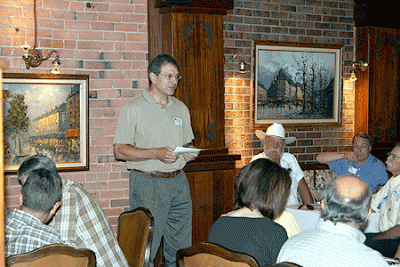 Long Description:
<p>Interim Berthoud administrator Gary Suiter talks about his life and what he hopes to accomplish in Berthoud at the Chamber of Commerce lunch at Retro Bistro on Aug. 27.</p>
Category Lead:
Category Primary Featured Story

Print This Post