By Gerri Roberts
Berthoud Recorder
This year Alisha Golsan represented Berthoud and Larimer County at the Colorado State Fair Performing Art Competion. Alisha's 4-H project is horse, but she is also a very accomplished pianist. 4-H has allowed Alisha to pursue both passions. Alisha competed at the Larimer County Performing Arts competition on June 13, and qualified for State.
State Fair was this weekend down in Pueblo. On Sept. 5, Alisha and her family were at the State Fair so she could compete. Alisha played her piano piece "Conquistador" in the Intermediate Keyboard/Piano Solo category. There were four parts of the Performing Arts contest going on Saturday, Sept. 5: Vocal, Instrumental, Theatrical, and Dance. The competitions took place in the small animal barn, in the 4-H auditorium, and on the Pepsi stage. At the end of the day Alisha Golsan was awarded a blue ribbon, a Reserve Champion ribbon, and a Reserve Grand Champion ribbon.
The Berthoud 4-H participants that competed at Larimer County Fair and were awarded Champion, qualified for the State Fair competition. These 4-H members had their work exhibited at the State Fair last week. The CSU extension office collected the projects on the day the projects are returned from county fair, and brought these to State, so that most 4-H members did not need to be there in person for their projects to participate. However, some projects did require the participant in person such as the livestock exhibits, the fashion review, the demonstration contest, the Creative Cooks contest and the performing arts competition.
To illustrate how it works, I will use my own projects. This year I did two 4-H projects. One of them was jewelry in creative arts and the other was in child development. My jewelry project is a county project, and so this project would not go to the State Fair even if I got Champion in my category. The child development project is eligible for the State Fair, and so if I get champion I give my project to the CSU extension representatives so that they transported it to the State Fair where it competed.
In addition, I participated in the performing art competition where I was an emcee. My family and I had to go to the State Fair so that I could be the emcee for part of the performing arts competition there. What is so great about 4-H is that the 4-H'ers can do so many things in addition to what the project is about.
I was impressed with how well Berthoud did at the State Fair. Just making it to State is an accomplishment and I congratulate everyone for making it so far. Berthoud did well in almost every category in the Family and Consumer Sciences as well as the general projects. There were too many for me to credit them all. Some 4-H'ers like Payton Stroh competed in more than one project and got Reserve Champion for both her ceramics bowl and her biscuits. In addition, Ryan Baker received third place for his biscuits. Heather Spaur received a fifth place for her gorgeous quilt submitted to the Senior Quilting Division. In sewing, Mia Roberts was fourth for her skirt, Kyla Markell was fifth for her Creative Sewing project and one of Katie Koun's projects placed fifth. This means Berthoud received awards in the junior, intermediate, and senior sewing categories. In Home Environment Katie Kouns was Champion.
In the General Projects category, Berthoud continued to do well. Jonathan Schlagel earned a Champion Ribbon in model rocketry. Courtney Brown, in addition to all her horse projects, also got third at the State Fair in Pueblo for her leather craft rifle case. Congratulations to every one that competed at the State and county fairs!
Category:
News – Community
News Image: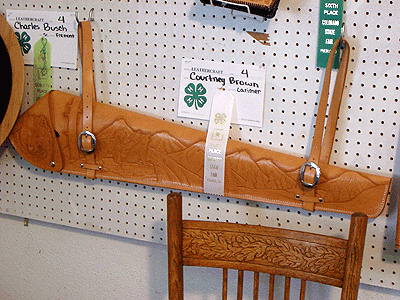 News Image: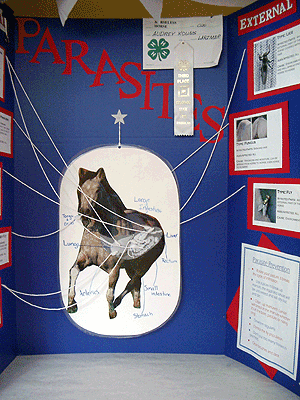 Long Description:
<p>Courtney Brown&rsquo;s Leadercraft exhibit placed third at the State Fair in Pueblo.</p>
Long Description:
<p>Audrey Kouns got third for her Horseless Horse project.</p>
Category Lead:
Category Primary Featured Story

Print This Post