By Laurie Hindman
Berthoud Recorder
For generations, the food at school cafeterias has been the brunt of jokes and derision. From cracks about 'mystery meat' to the backlash after President Reagan's administration defined ketchup as a vegetable, the common lore about school food is that it is unappetizing and not nutritious.
Turner Middle School cafeteria manager, Donna Schuster, bristles at this characterization. "The common opinion of the public is that school food is bad, but they are misinformed. They may look at the menu in the paper and see chicken strips and think it is unhealthy, but there is a lot they are not seeing."
What the average person doesn't see is the nutritional content. According to Schuster none of the prepared cafeteria food contains trans-fats. In addition, the district tries to purchase products that are low in carbohydrates, sodium and artificial preservatives.

"Our breads are all 100 percent whole grain. Our pretzels are whole grain. We use real cheese, not processed, and it is made with skim milk," said Schuster. "All our products are low fat."
Schuster said there are three dieticians on staff and all nutrition services personnel receive intensive training on nutrition, food portions and food safety. Most food served in the schools is made for the district, to their specifications. Menu planners gauge how many nutrients and calories children in middle school should have on a weekly basis and design menus to provide a balanced diet.
"We are one of three states that are really rigid on our products. We are trying to combat childhood obesity by providing healthy food choices and healthy portion sizes," explained Schuster.
Fresh fruit and vegetables are available everyday. While Schuster said that every school in the district offers an identical menu, each cafeteria manager can customize their orders according to the population. For example, Schuster said TMS students are crazy about fresh fruit. "Our kids go through hundreds of kiwis and grapefruit. They eat grapes, strawberries, bananas, oranges, watermelon and apples. We went through 113 Granny Smith apples in two days." Schuster said when possible, the district uses local produce. Most recently, they served students Palisade peaches. "Turner ate 250 peaches in one day," laughed Schuster. "The kids loved them." And Schuster refutes the idea that most adolescents are "junk food machines."
"Parents would be amazed to see what their kids eat here. They pick up vegetables as a side order every day." Schuster said most often the junk food is coming to the school in lunches brought from home. "I see a lot of soda coming in. A lot."
Parents won't find soda, or other highly sugared drinks such as Gatorade or Powerade, offered either in the cafeteria or vending machines. On July 1 the Colorado "beverage law" went into effect, limiting elementary and middle school drink offerings to juice, water and milk. High schools are allowed to offer low calorie teas, sports drinks and diet soda in their vending machines.
Snacks and chips offered by the schools are also healthier — TMS sells baked Lays, Sun Chips and Goldfish, as well as granola bars and fruit snacks made with 100 percent real fruit juice. "We actually have had few complaints from parents about not offering other types of snacks and drinks. The kids adapted easily to the healthier menu, and we hardly had any complaints from them."
Schuster sees the emphasis on nutrition and healthy eating as an important part of the students' education. "I tell the kids, you only have one body and you need to take care of it, physically, mentally and spiritually. You are not going to perform well in school or in life if your diet is full of sugar and fat."
For questions about the district's nutrition services and resources, check out their Web site at www.Thompson.k12.co.us/departments/bs/nutrition or call Nutrition Services Director Tammy Rempe at 970-613-5000. Turner Middle School cafeteria manager, Donna Schuster, said she welcomes questions from parents. Schuster can be reached at 970-613-7410.
News Image: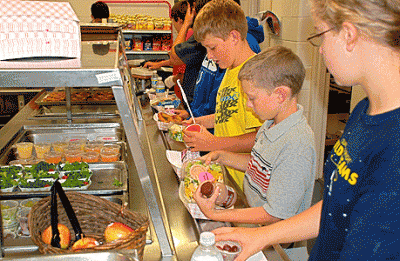 Long Description:
<p>Sixth-grade students file through the lunch line choosing from an array of fruits and vegetables. The TMS cafeteria and Thompson School District follow stringent guidelines on nutrition and portion size in an effort to provide healthy lunches for area students.</p>
Category Lead:
Category Secondary Featured Story

Print This Post