Berthoud Recorder Volunteer of the Month
By Laurie Hindman
Berthoud Recorder
On Tuesday and Thursday at the Berthoud Living Center, the common area comes alive with the sounds of bingo. Residents start arriving a good 20 minutes before the 2 o'clock start time, shuffling in with walkers or slowly rolling up to tables in wheelchairs.
Volunteer Carol Keck is already there, taping bingo charts to tables to prevent them from sliding. Keck has been working the BLC bingo games for seven years and knows the residents' preferences by heart. "Put four charts together on that table," she instructs. "That's where Don sits and he like to do four at once. Two over there for Edna." Keck greets each resident with a warm greeting and ready smile. "Are you feeling better today? Come on, Cornelius, where do you want to sit?"
Some of the residents sit motionless, staring off into space, ignoring assistant activities director Becki Smith's bingo calls. Keck walks from player to player engaging them with friendly chatter, gently pointing out places to put a chip. Before long, each person is focused on the chart before him or her, carefully placing chips on the appropriate spot. "There you go, now you've got it," she encourages one elderly woman.

A new resident is pushed to a table in a wheelchair, her broken arm resting on an attached tray. She declines to play, saying she has never played bingo before and just wants to watch. Keck doesn't take no for an answer. "I'll tape the card right here on your tray. Give it a try. I'll bet you can do it one-handed." Sure enough, within a short time, the new resident's chart is dotted with the blue chips.
Keck, who is now retired from her work as mobile home salesperson, began volunteering at the assisted living center when her mother was receiving physical therapy after a broken leg. "My mom was an avid bingo player and timed her therapy with the bingo games," she laughs. After her mother passed away, Keck kept coming. "I had become really attached to people so here I still am."
Keck is the mother of five children, one now deceased, and a grandmother of eight. She said in addition to working in her extensive rose garden, being at the Berthoud Living Center two days a week is the most fulfilling work she does.
"It is enjoyable for me," said Keck. "Everyone here is so grateful for the time you give them. Some people don't have much family and hardly ever have visitors." Keck said the bingo keeps them active, engaged and most of them really look forward to it. "Some of them can't hear very well — one gentlemen is almost blind. But they come every time. They count on it."
More volunteers are needed she says. "BLC uses volunteers for lots of different things, such as activities support or just visiting with the residents. And they love music. If someone can play the piano or guitar and come sing—it gives them such joy. You really see the light in their eyes when they hear music they know from the past."
The bingo games held on Saturday afternoons have no volunteer assistance. Watching Keck run from person to person, helping to place chips on the right square, it is clear the help is needed and appreciated.
Activities director, Fawn Campos, said Keck is a godsend. "She's wonderful. She is so dedicated and has been coming for years." Campos said Keck brings stuffed animals donated by the Habitat for Humanity Thrift Store to give as prizes, as well as chips, candy, toiletries, figurines, costume jewelry and other trinkets that she purchases with her own money. "She really brings a lot of happiness to our residents."
If you are interested in volunteering at the Berthoud Living Center, call 970-532-2683.
Category:
News – Community
News Image: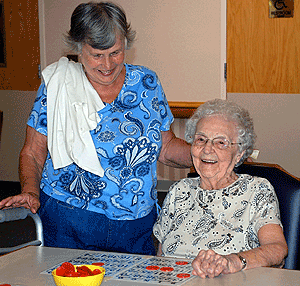 Long Description:
<p>Berthoud Living Center volunteer Carol Keck shares a laugh with resident Rita Chaney. Chaney will be 100 years old next July and is a dedicated bingo player. &ldquo;She&rsquo;s a sharp as a tack,&rdquo; declares Keck.</p>
Category Lead:
Category Secondary Featured Story

Print This Post