By Michael Hicks
Berthoud Recorder
CRAIG — Marcus Mathieson kneeled on the ground in disappointment. His fellow Berthoud teammates followed suit.
It wasn't because of how they played Friday night at Moffat County, but, more because of how things played out. Just seven offensive plays earlier, the Spartans had overcome the odds, and their own mistakes, to force overtime. But on Moffat County's second offensive play in the extra session, running back Pablo Salcido slipped out of the grasp of Mathieson and scurried into the end zone with an 8-yard TD reception for a 20-14 Bulldogs victory.
The season-opening loss was a bitter pill to swallow after all Berthoud had overcome just to give itself a chance to win the game. Berthoud committed 12 penalties. It turned the ball over three times. It was the beneficiary of a Moffat County penalty that erased a Bulldogs touchdown. And, to boot, it got a favorable punt in the final minute that set up a heroic last-second score in regulation to tie the game.
"Our kids are resilient. They played as hard as they can," Berthoud head coach Dan McGinn said. "Some of our inexperience showed at times tonight. They're going to get better. They're the first ones that will tell you that we made some mistakes this evening. But we did some good things, too."
Nothing was better than the play of sophomore quarterback Zach Ruebesam on the final drive of regulation. After Berthoud had forced a three-and-out from Moffat County, Salcido shanked a punt that went only seven yards, setting the Spartans up at the Moffat County 23 with 28 seconds left and no timeouts. Three plays later, all passes to Brandon Bratcher, Berthoud had tied the game at 14 with just four-tenths of a second left.
The Spartans got the ball to start the overtime. Starting from the 10-yard line, Kent Flynn gave Berthoud five yards on a first-down carry. But back-to-back losses by Ruebesam forced BHS into a 32-yard field goal attempt by Colton Moore. His kick was straight on, but fell inches short of the crossbar, leaving the game tied as Moffat County took possession.
Two plays later, Salcido, who opened the scoring with a 46-yard scamper in the second quarter, finished the game when he caught a Matt Linsacum pass at the 6 and scampered into the end zone, after shaking off Mathieson, for an 8-yard score. "I'm just speechless. Our team practiced all week as hard as it can. Berthoud's a really good team. I can't really talk now knowing how good they are," Salcido said.
Berthoud trailed 7-0 at halftime, but tied the game in the third after a Moffat County turnover set the Spartans up at the Bulldogs 17. Two plays later, Greg Glasser ran three yards and fumbled, but Kent Flynn fell on the ball in the end zone.
But that was one of the few breaks Berthoud got. Six times the Spartans got into Moffat County territory — twice inside the 20 — only to come away empty-handed.
"We really did things to ourselves. I felt like we moved the ball really well at times we just didn't finish. We'll work on that and get better," McGinn said.
Whereas the offense, which has just one returning starter from last year's 9-3 squad, struggled with its continuity, there was no question that the defense, with its eight returning starters, played like a veteran squad. Yes, Berthoud gave up 20 points, but 14 of those were the result of Moffat County starting a drive at the Berthoud 10 and the 20. The latter was capped by a Linsacum TD pass to Brady Conner midway through the fourth quarter.
"Our defense played well. We expect them to play well. They expect to play well. They played their hearts out. We just didn't finish on the offensive side of the ball tonight," McGinn said.
---
GAME PREVIEW
Who: Fort Lupton (0-1) at Berthoud (0-1)
When: Friday, 7 p.m.
Where: Max Marr Field
Tickets: $5
Last meeting: Sept. 5, 2008, Berthoud 42, Fort Lupton 21. The Spartans scored five first-half touchdowns on six possessions en route to their second straight game of scoring 40 or more points. Berthoud rushed for more than 300 yards and collected 530 total yards of offense. Tye Duncan scored three touchdowns — two on runs of 37 and 60 yards.
Game notes: This is the Tri-Valley Conference opener for both schools. … Berthoud is coming off a 20-14 overtime loss at Moffat County on Friday in which it tied the game with four-tenth of a second left on a Zach Ruebesam TD pass to Brandon Bratcher. But Moffat County won the game on its second offensive play in overtime. … The Spartans were haunted by turnovers and penalties last week, coughing up the ball three times and being flagged 12 times. … Fort Lupton is playing the second of three straight road games to open the season. … The Blue Devils lost 20-6 at Valley last week. … Fort Lupton is coached by former assistant coach and Northern Colorado graduate, 23-year-old Justin Carpenter. … This is the first of three straight games against playoff teams from the Tri-Valley Conference last year. Fort Lupton plays Mountain View and Windsor the next two weeks.
News Image: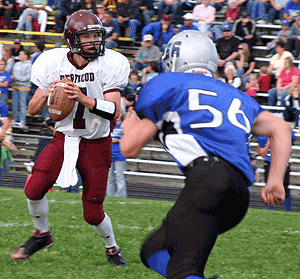 Long Description:
<p>Berthoud QB Zach Ruebesam tries to avoid the rush of Moffat County linebacker Brian Ivy. Ruebesam rushed for 51 yards and threw a TD pass in his first varsity start.</p>
Category Lead:
Category Lead Story
Home Lead:
Home Page Secondary Featured Story

Print This Post