By Katie Essig
Berthoud Recorder
The Berthoud High School boys soccer team kicked off its season on a high note, winning its opener 6-1 against Elizabeth on Thursday night.
For new head coach John Barron this was an especially great way to begin the 2009 season. This is his first year as head coach after replacing Jeff Benjamin, who is now coaching at Mountain View. Barron said that the game was "very exciting" and that he's proud of his player's performance.
The game started off in Berthoud's favor. Even though Elizabeth opened the scoring with a Raul Castaneda goal, Berthoud quickly evened the score, then came back with three more goals within eight minutes of each other. Freshman Axel Ayala scored two of the four goals, followed by tallies from Michael Berra and Luis Tavizon. Ayala assisted on Tavizon's goal for a game-high three points.
BHS captain Austin Puckett kicked off the second half with a goal, making the score 5-1 Berthoud.
"I think we played extremely well. We moved the ball well and worked the field," Puckett said.
The Spartans closed out the victory with a goal by Kenneth Gomez off an assist from Daniel Bosnich with 43 seconds remaining.
Coach Barron was proud about the first win.
"This win will create a great momentum for the rest of the season. Our preseason training proved to be successful tonight and is paying off in this win," Barron said.
As for the rest of the season, Barron's goals are to "just continue to have fun and make it a step further into the postseason games than last year."
Puckett has similar goals for the team.
"Hopefully we can make it to the playoffs and then to state. We just have to keep playing like we did," Puckett said.
News Image: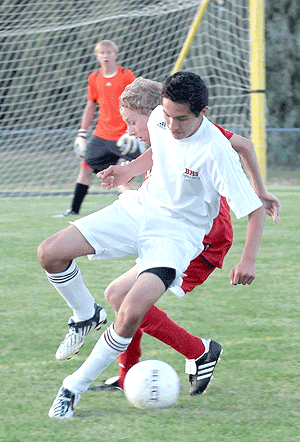 Long Description:
<p>Berthoud&rsquo;s boys soccer team opened the season with four first-half goals in a 6-1 defeat of <br />Elizabeth at Max Marr Field last Thursday.</p>
Category Lead:
Category Primary Featured Story

Print This Post