By Michael Hicks
Berthoud Recorder
FORT COLLINS –– When it came to Saturday's Poudre School District Pre-State Cross Country Invitational, the Berthoud High School runners had modest goals in mind. Winning wasn't important, at least not as much as their individual goals. Emma Otto was proof of that.
The sophomore runner just wanted to beat her time from a week earlier at a scrimmage. She did that with a run of 20 minutes, 42.6 seconds, finishing 21st out of 183 runners in the 4A girls' race.
Though Otto's run was 38 seconds off her school-record pace at Fossil Ridge High School last October at the 2008 state championships, it was a good start for the new season, especially in light the extreme heat that continued to warm up as the meet went on.
"It was so hot. This course feels so long it's hard to run. I just paced myself and tried to stay with the girl in front of me," Otto said.
Her finish helped the Lady Spartans to a 16th-place finish out of 26 schools in the 4A girls' field. Fellow sophomore Dillon Fagler was second among Berthoud runners, finishing nearly two minutes back of Otto in 74th-place. Stefani Messick, Hannah Kirk and Julia Leonard finished almost a minute apart from each other to wrap up Berthoud's scoring. Senior Courtney Dunn ran the hilly course in 24:30.30.
Evergreen edged out Greeley Central for top team honors, but the Wildcats had the top individual runner in junior Allie Parks. She ran the 3.1-mile layout in 18:48.
The boys didn't finish nearly as high, partially because they were running without injured senior Derek Gwin. He missed the meet due to a minor heart condition.
Nevertheless, BHS, which finished 25th out of 30 schools in 4A boys, came away pleased with their run because it was all about them and how they stacked up and not about winning.
"We really wanted to get out and see what we could do against a lot of competition," said senior Nick Divine, whose time of 18:18.46 was good for 55th out of the field of 213.
"The best teams in the state are here. Our team has a lot of new people. How are we going to fare against these guys. We just tried to do the best we could and we'll be happy with it."
Junior Spencer Golsan was just nine seconds back of Divine, finishing in 61st. Adam Kemp, Brian Von Seggern and Ravi Smith –– all juniors like Golsan –– wrapped up the team scoring for BHS. Ben Fell and David French were also in the mix.
"We've got a lot of people that are really stepping it up this year. That's really going to help us out," Divine said.
Just having the number of runners in the fold will also help, said Golsan.
"The more people make it so that you can basically run faster. I think it's good to have a lot of people. It helps a lot," Golsan said.
Wheat Ridge senior Scott Fauble was the top medalist, finishing in a time of 15:46.46. Cheyenne Mountain took top honors.
News Image: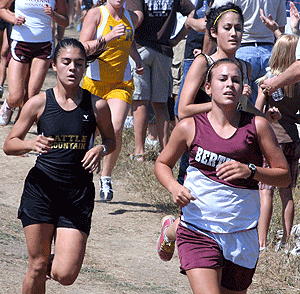 Category Lead:
Category Secondary Featured Story

Print This Post