Lexi DiPentino runs the BMX Rocky Mountain Race Team, and when she found out that one member, Alex Sabados, had been diagnosed with a brain tumor, "I was trying to figure out how I could help him out." Sabados has always been a fantastic rider, and "he's got the best spirit," said DiPentino. She was determined to find a way to help the 13-year-old Berthoud boy get well.
DiPentino and Derby Grille coworker Randi Romans put their heads together and brainstormed ideas, and in the end came up with Alex's Fun Run to be held Sept 19. DiPentino brought her knowledge of Sabados and other area kids and Romans brought her experience with other charitable events including the Rocky Mountain Elk Foundation, to form a truly fantastic benefit.
The event includes a poker run and a bike run, for adults and kids respectively. The poker run starts at the Derby Grille with check in at 9:30 a.m. It costs $20 for the initial card. From the Grille, participants will ride around to various locations in the area, drawing more cards. At the end, the best hand wins a prize.

The bike run starts at the Berthoud Recorder with check in starting at noon. Kids and adults will follow a series of clues in a scavenger hunt around Berthoud. There will be opportunities to win prizes at every stop as well. The initial cost is $5 per rider, plus $1 at each station to enter a raffle drawing. There will be more opportunities to enter the raffles later in the day as well. All in all, expect to pay $13 for the whole race.
Along with the poker and bike runs, there will be a grand buffet at the Derby Grille from 2 to 6 pm. All of the food for the buffet has been donated. The smoked meats to be served will be provided by an anonymous donor and DiPentino promises it to be a treat. Schmidt's Bakery is donating cookies, and Farmer John (also known as Salsa John) is donating salsa. Rich Johnson will be the entertainment, and Karen Lanter from The Look in Berthoud will be providing deeply discounted haircuts from 1:30 pm on. Buzz cuts will run $15 and all other cuts $25.
Other sponsors of this event include Target, the Dandelion Group, Canyon Grill, Hooters in Loveland, the Berthoud Recorder, Town Forum, and the Derby Grille. DiPentino is overwhelmed with the generosity of Berthoud and its surrounding neighbors. The Canyon Grill for example is donating gift cards as prizes, but is also donating 20 percent of the money made during their part of the poker run directly to the Sabados family.
And when it comes down to it, this day of fun, food and festivities is all about helping a family with a sick child. The day promises to be bright.
For more information on Alex's Fun Run, please visit http://alexsfunrun.com. There you will find registration information and detailed instructions. If you would like to help the Sabados family but cannot participate, a donation fund has been set up at Guaranty Bank under the name Alex Sabados Donation Fund.
Category:
News – Community
News Image: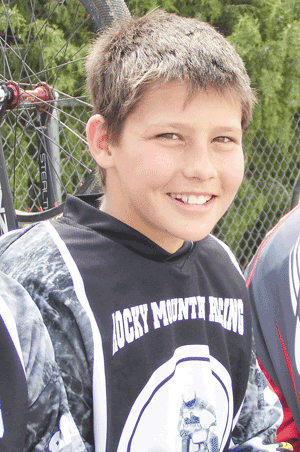 Long Description:
<p>Alex Sabados</p>

Print This Post