Local Non-Profit Action Works Prepares for Annual Thompson School District Robotics EXPO at Berthoud High School
Master LEGO builders joined together Saturday, Sept. 12 to assemble 9,163 LEGO pieces into mission models for the upcoming FIRST LEGO League (FLL) Tournament, part of the Thompson School District's Robotics Expo to be held at Berthoud High Nov. 7. The kits are the foundation for the 2-minute challenge students age 9 to 14 participate in at the tournament.
Action Works needed to build the LEGO "Field Kits" funded by GE's Volunteers Foundation to prepare for the robotics season. Bob Atkinson from the foundation said, "Volunteerism during high school from ninth grade on is very important for the scholarship application process. Student with a history of community work have a better chance of college admissions and scholarships." The kids who came to volunteer with Action Works for the LEGO build earned volunteer hours in a fun, engaging three hours.
The FLL kits will be used both on Oct. 10 at Loveland High School and Nov. 7 at BHS for a scrimmage and tournament respectively.
"Volunteers are needed for both of these events as well", said Liz Rayment, president of Action Works and LEGO Mindstorms coordinator for the Thompson School District. "Our greatest need at this point is high school referees that can come to both events this year."
Training for the referees is done at the smaller, lower pressure scrimmage at LHS and they carry this knowledge to the main event on Nov. 7. "This year we hope to have enough referees to run them in shifts," continued Rayment. "We want the students to see all the other great things going on at the EXPO." Other organizations will demonstrate either transportation or robotics at the EXPO.
The Master LEGO builders from Loveland and Berthoud include: Jake McDonald, Ken Kubik, Cooper Coulston, Tyler Freiberg, Emily Birkmaier, Jon Neuhalfen, Clay Rayment, Zac Marquardt, Samantha Mason, Chase Rayment, Tanner O'Leary, Ben Gronberg, Kohlton Holsapple, Jacob Gentrup, Bob Atkinson and Ben Marquardt.
News Image: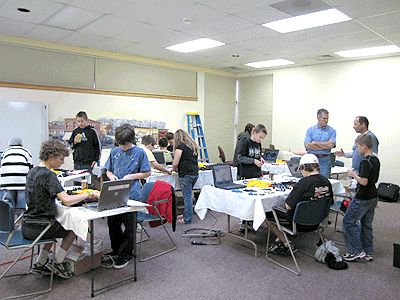 Category Lead:
Category Primary Featured Story

Print This Post