By Dani White
Berthoud Recorder
Brian Laak is a self-proclaimed wood collector. The resident woodworker designs and crafts custom furniture and cabinetry, and like any artist, Laak gathers the specific media that intrigue him — in this case different kinds of wood — saving them for special custom projects. His resourcefulness keeps him looking outside the lumberyard.
He is a one-man operation and likes it that way. This craftsman will only work on two projects at a time in order to ensure his unique personal quality and care.
Laak initially began business in his backyard. There is a quaint blue building that still boasts all the charm befitting what once was his original workshop. Laak has always worked in centrally located spaces in Berthoud, but for the last four months he has been adjusting to a larger, new facility just next to Brookside Gardens Event Center. His new industrial sized workshop is on an all but hidden gravel road that runs along the Westside of L&M Gardens.
The transition from being conveniently located to moving just outside the residential periphery has been isolating for the woodworker. Laak stresses, "production is much better off, but I miss the constant stream of visitors."
He used to have a welcome surplus of people stopping by his former location, largely due to the piles of scrap wood he would leave outside for any takers. People from all over the area have used his scraps for different purposes. Laak definitely intends to re-establish the community scrap pile hoping that people will still find use for his extras.
He has developed his craft for many years. All of his life experiences led up to his current success with woodworking, his true calling. As a child he loved experimenting with wood, and his parents always encouraged him. The magic is still there, and it is plain to see his passion.
It's an exciting experience for anyone wandering into the creative sanctuary of his vast new workspace. The shop is neatly speckled with wooden planks and panels, walls of hanging tools, rows of projects in various states of completion, and best of all, the prize pieces of towering, burrowed walnut, hulked in the back corner.
The beautiful, well-kept assortment of woods, patiently wait to become custom, handcrafted cabinets, banisters, doors, benches or tables. Laak's woodworking is the admirable reflection of the organic process he uses to manipulate natural raw materials into functional and aesthetically pleasing creations. There is a certain natural talent that brings an artful distinction to this kind of craft. Brian Laak takes the art of woodworking to a whole new level.
You can find further information at www.LaakWoodworks.com.
News Image: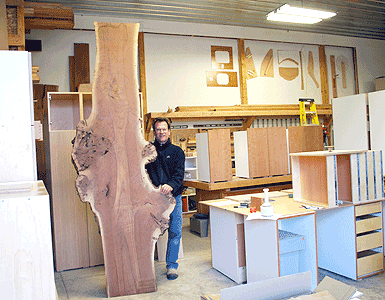 News Image: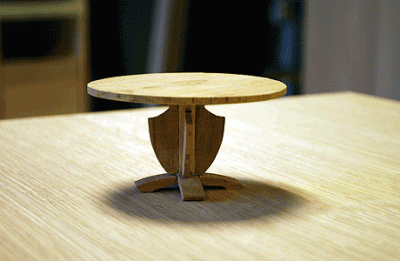 Long Description:
<p><span style="font-size: small;"><span style="font-family: arial,helvetica,sans-serif;">Laak welcomes visitors to come see his new workshop and maybe take home some scraps of wood.<br /></span></span></p>
Long Description:
<p><span style="font-size: small;"><span style="font-family: arial,helvetica,sans-serif;">The miniature collection of tables that Brian Laak makes is especially impressive, knowing that they are all exactly measured replicas of what he will create.He does all of his furniture designs by hand and to scale with drawings and models.</span></span></p>
Category Lead:
Category Primary Featured Story

Print This Post