By Jamie Folsom
Berthoud Recorder
For those who enjoy Garrison Keillor's ultra-suave gumshoe character Guy Noir, has Loveland Opera Theatre got an event for you –– a night of murder, mystery, music and Guy's younger brother, Chad Noir. Their fourth annual gala fundraiser looks to be a night of uptown fun in downtown Loveland, with their original production of "Mystery on the High Cs," discounts in local restaurants and an impressive selection of silent auction items.
The inspiration for "Mystery" came from "an awful" opera CD –– "Murder on the High Cs" –– that LOT founders Robert Hoch and Juliana Bishop Hoch laughed their way through.
"My husband is quite a character, and this awful soprano was almost like a spoof on opera," noted Bishop Hoch. So, she said, he got the idea to combine the fun of a murder mystery party with wonderful singing and characters based in popular operas.
Gala goers of all ages will experience scenes from "La Traviata," "Pirates of Penzance," Rossini's "Barber of Seville" and others, with a cast of over 40 people performing. The narrator and chief investigator for the evening will be Chad Noir, played by Tom Champion from Loveland. At the end of the evening, the audience will vote on Who Dunnit?
Everyone is welcome to come in comfortable clothes, gala clothes or even full costume. "We want people to enjoy the fun side of opera," Bishop Hoch said. "It's not something that's stuffy."
---
"Mystery on the High Cs" 2009 Gala Fundraising Event
Saturday, Sept. 26 starting with silent auction preview at 5:30 p.m.

Tickets: Rialto box office at 970-962-2120 or go to www.ci.Loveland.co.us/Rialto/Rialto.htm. Admission is $20 per person. Information at the LOT Web site: www.LovelandOpera.org.
Pre and post gala discounts in downtown restaurants from 4 to 11 p.m. – The Black Steer, 4th Street Chop House, Monaco Trattoria, Henry's Pub and the Pourhouse Bar & Grill.
Bonus for ticket holders: Candlelight Dinner Theatre vouchers for show-only tickets to their production of "Phantom."
Audition Call
LOT announces auditions for principal roles for its upcoming production of "Hansel and Gretel" by Humperdinck on Saturday, Oct. 3 (preliminaries) and Sunday, Oct. 4 (call backs) at Mountain View Presbyterian Church in Loveland.

An accompanist will be provided. The opera will be performed in English and some principal roles will be double cast.

Performance dates are March 4, 5, 6 at 7:30 p.m. and March 7 at 2:30 p.m. Prepare one aria in English + a section from the score (Schirmer) for your character (see the LOT Web site www.LovelandOpera.org for details).

Please send photo and resume to LovelandOperaTheatre@gmail.com or call 970-593-0085 to request an audition.
News Image: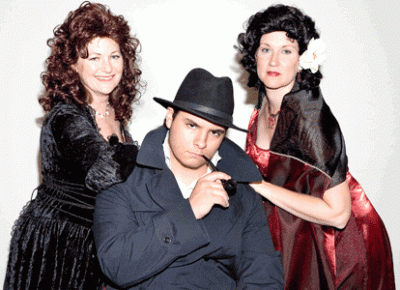 Long Description:
<p>From left, Amy Andersson, Tom Champion, Claire Keleher and Joyce Honea.</p>
Category Lead:
Category Primary Featured Story

Print This Post