By Jamie Folsom
Berthoud Recorder
Picture This Custom Framing owner and artist Michael Georges is teaming up with Indigo Sky to offer classes on the essentials of drawing portraits and oil painting.
With 20 years experience in several media under his belt, Georges hopes to build a foundation for a larger Berthoud-based artist community. He says he'd love to "get something going on every week with local art center," such as Wildfire.
But first, he says aspiring artists should know some basics. "Life drawing is the most important thing an artist can EVER do … Teaching you what to actually translate can only be done from a direct observation of life," he explains.
"It teaches you what to draw, what not to draw … it develops an artistic sense in a person," he says, noting that great artists all have that experience of drawing, painting or creating their art using live models or out in the field.
He emphasizes the skills to create come from "your own eye — you're seeing this tree, this apple, this person."
"I'd like to help people begin to understand," Georges says. And from there, they should be able to go into any live drawing session or go home and do it for themselves.
The portrait classes, broken into two three-hour sessions will focus on live model and photo reference drawing. Georges will give individual instruction and do demos of the process. He'll cover everything from choosing materials, lighting, working with live models, working with photos and capturing likenesses using landmarks.
The oil painting class is two hours long and encompasses stretching a canvas, laying substrates and techniques, as well as the basics of color. This class is designed to help people avoid "buying a lot of stuff they don't need or understand how to use."
Sign Up for Classes
Classes scheduled as students sign up. Contact Gina at Indigo Sky: 970-532-0790 or Michael: 970-532-2998.
---
More on Michael Georges' work online at www.FinePortraitsInOil.com and http://PTFraming.com/wp.
News Image: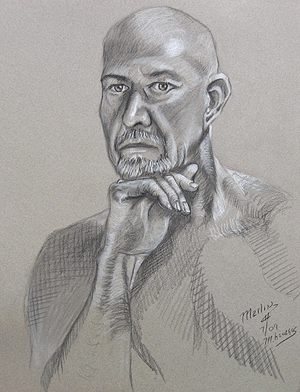 Category Lead:
Category Lead Story

Print This Post