By Dani White
Berthoud Recorder
The film "9," with an appropriately timed release on the Sept. 9, is a new kind of computer-animated film with heavy content and a moody backdrop, imagined for a mature audience. There are lessons and laughs to be found along this dark journey, but it is not a sugarcoated children's story.
There is an eerily brooding, suspenseful nature to the film that keeps with the sci-fi adventure spirit. Mainstream entertainment media has become increasingly obsessed with the "end of civilization" scenario. The prominence of this post-apocalyptic theme is now spreading into popular animation, last year with Disney's "WALL-E" and now with its darker kindred "9."
Whether the film industry is taking cues from society or simply using the medium as artistic commentary, the films work in their own way. It is also not surprising that a film of this motif was co-produced by Tim Burton and Timur Bekmambetov.
Originally a 2005 Oscar-nominated short of the same title by Shane Acker. "9" is also Acker's feature-length directorial debut. The film follows the strange and fragile burlap, doll-like character 9, and others he finds like himself, as they fight to survive in a world ruled by destructive machines. They are the only remotely human creations remaining in the dreary wasteland of a world long since ruined by the misuse of technology.
The storyline is slight and focuses on instilling an ambiguous sense of peril and hope. What the film lacks in depth it makes up for in action. The constant ominous tone throughout the film forcefully captures our imagination and attention and secures it with visually stunning, animation. This artful and creative hyperrealism effortlessly pulls the audience into the dismal fantasy realm. The story is interesting but it is the spectacular vivid imagery that is worth spending the money to see on the big-screen.
---
"9″
Director: Shane Acker
Starring: (voices) Elijah Wood, Christopher Plummer, Martin Landau, John C. Reilly, Crispin Glover and Jennifer Connelly
Runtime: 120 min.
MPAA Rating: PG-13,
Reviewer Rating: 3 out of 5 stars
Category:
Variety – Price of Admission
News Image: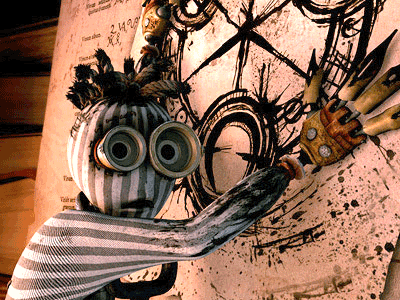 Category Lead:
Category Primary Featured Story

Print This Post