Berthoud 54, Fort Lupton 0
By Michael Hicks
Berthoud Recorder
First, Kent Flynn scored. Then Greg Glasser. Then they flip-flopped and it was Glasser scoring, then Flynn. Quarterback Zach Ruebesam and backup Logan Schuster got into the act. Shoot, Marcus Mathiesen didn't want to be left out and returned a punt for a score.
At the rate Berthoud's offense was putting up points in Friday's 54-0 home opener against Fort Lupton at Max Marr Field even the scoreboard struggled to keep pace. But the one-sided affair was just what the host Spartans needed to not just score their first win of the 2009 season, but to wash out any bad taste that may have been left in their mouths from a season-opening loss one week earlier.
"This is something all of our kids needed," said head coach Dan McGinn, whose team bounced back from a 20-14 overtime loss at Moffat County a week earlier even though the game got off to an eerily similar feeling.
Berthoud twice drove deep into Fort Lupton territory in the first quarter only to come away with nothing. But the Blue Devils (0-2, 0-1 Tri-Valley Conference) gave Berthoud the opening it needed to open up the floodgates on offense.
When punter Clint Cook failed to convert a 4th-and-9 fake punt attempt from the Fort Morgan 15, the Spartans set up shop at the opponent 23. Two plays later, Flynn was in the end zone for the first of his two TD runs from 14 yards out and Berthoud led 7-0.
A Billy Schump fumble recovery on the ensuing kickoff put Berthoud (1-1, 1-0) at the 17. One play and seven seconds later Glasser found pay dirt. The first of his three touchdowns pushed the Spartans lead to 14-0 after one quarter.
Both Flynn and Glasser scored again in the second before Ruebesam scrambled in from 4 yards out to give Berthoud a 33-0 halftime lead. Any issues Berthoud had on those first two possessions were quickly exorcised after the failed fake punt by the Blue Devils.
"I've said it before and I'll say it again: any win in the Tri-Valley you have to celebrate and we will. But we have to really figure out how to finish drives. We have a lot of work to do," McGinn said. "We moved the ball real well at the beginning of the game, but, like you said, we stalled out there. The kids then dialed in, in the second quarter. They really, really got focused and did a nice job of executing."
Things continued to roll in the second half when the Spartans took the opening possession 67 yards in a 1 minute, 23 seconds, capped by Glasser's third score, a 27-yard scamper, and the rout was officially on.
The game clock ran continuously without interruption the rest of the way. That may have been the only thing, other than Berthoud's willingness to call off the dogs, that kept the Spartans from scoring more than they did.
Mathiesen returned a punt 55 yards for a score midway through the third quarter and Schuster completed the scoring with a 36-yard run on the first play of the fourth quarter.
"It was just great blocking," Mathiesen said of his punt return. "If you go back look at the film I had blocks all over place. I only had to get by one or two guys. That's what's supposed to happen when that happens. Anybody can take it to the house with that kind of blocking."
That play, like none other, showed the teamwork that Glasser and company were looking for to get back on the winning track.
"Everyone executed on the entire team. Everyone played like a team," Glasser said. "Now we just need to forget about this game and focus on Windsor and play our game."
GAME PREVIEW
Who: Berthoud (1-1, 1-0 3A Tri-Valley Conference) at Windsor (2-0, 1-0)
When: Friday, 7 p.m.
Where: H.J. Dudley Field, Windsor High School
Directions: Take I-25 North to Exit 262 (CO-392). Turn right and travel four miles. The high school will be on the left at 1100 Main Street.
Tickets: $5
Last meeting: Sept. 12, 2008, Berthoud 25, Windsor 15. Bryce Munoz and Jordan Major rushed for two touchdowns each and the Spartans overcame three turnovers and a fourth-quarter charge from the Wizards.
Game notes: Berthoud enters the game with a six-game winning streak over Windsor. … The Spartans racked up 422 yards of total offense and 18 first downs in last week's rout of Fort Lupton. … Kent Flynn combined for 155 yards of total offense. … Berthoud held the Blue Devils to just 55 yards of total offense in its Tri-Valley Conference opener. … Windsor rushed for 356 yards and quarterback Trevor Okamoto threw for two scores as the Wizards shut out Frederick last week. … Windsor, which opened the season with a win over Fossil Ridge, has scored 74 points in two games — second only behind Mountain View for most in the Tri-Valley Conference. … Both Berthoud and Windsor reached the 3A state quarterfinals a year ago.
News Image: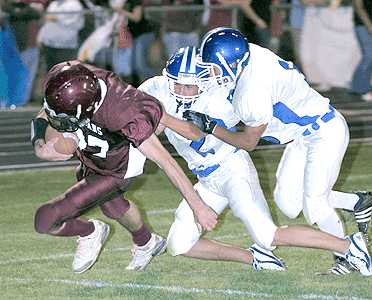 Long Description:
<p>Berthoud&rsquo;s Kent Flynn rushed for 110 yards and two touchdowns.</p>
Category Lead:
Category Lead Story
Home Lead:
Home Page Primary Featured Story

Print This Post