By Michael Hicks
Berthoud Recorder
LOVELAND — Technically speaking, Morgan Thonhoff isn't Berthoud's No. 1 pitcher. She's not even its No. 2. But the freshman right-hander more than proved Saturday afternoon at Barnes Softball Complex that she's capable of pitching a gem as good as anyone else.
Thonhoff held Longmont's batters in check in a 10-0 victory by allowing just four base runners –– all on singles –– in the five-inning game that was called due to the mercy rule. She struck out four and didn't allow a walk in her first career start.
Thonhoff didn't know she would be making her first career start until just before Berthoud's final game at this year's Berthoud Invitational.
"[Coach] said there's a ball in my bag. It's yours. You're starting," Thonhoff said.
Her first pitch went five feet over catcher Amy Ekart's head. But once Thonhoff settled in not even the persistent drizzle that fell early Saturday afternoon could slow her down. She retired the first eight batters she faced –– three by strikeouts –– before right fielder Jazz Read singled to left field with two outs in the third inning. She allowed three more hits, including back-to-back singles in the fifth. But a strikeout of Read, followed by a ground-ball out of Sam Keller finished off the Spartans' third win in four games at the invitational.
"It was good. At first, I was kind of nervous, but I have eight girls behind my back on the field. I have confidence in the team," said Thonhoff, who saw her first pitching duties on Friday in a 3-2, eight-inning loss to D'Evelyn.
The Spartans bats certainly didn't hurt Thonhoff's confidence. Berthoud (8-3) collected 10 runs on 13 hits, including two doubles for Amy Krause, and broke the game open with a five-run third inning.
The 10 runs capped three straight victories at the invitational in which BHS scored 29 runs in wins over Fossil Ridge, Eaton and Longmont.
"We've got good pitching, good defense. We just need to keep the bats rolling. (We) scored in every inning in the last two games," Berthoud head coach Dick Klocek said.
Though Krause and No. 2 pitcher Victoria Puchino were available to pitch –– they both played in Saturday's game with Longmont –– Klocek elected to go with Thonhoff. His decision paid off with her outing.
"I guess she would be our third pitcher, but really they are all No. 1 pitchers," Klocek said. "They all can play the other's position. It can't be any more ideal."
Saturday's first start, other than maybe a perfect game, couldn't have been any more ideal for Thonhoff.
News Image: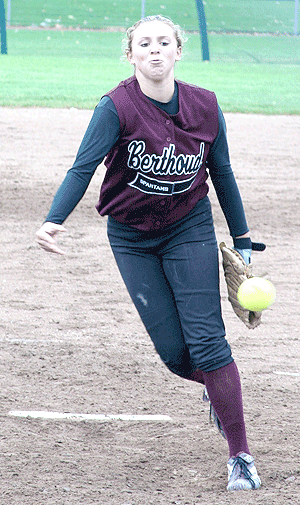 Long Description:
<p>Morgan Thonhoff pitched a four-hitter in her varsity debut.</p>
Category Lead:
Category Primary Featured Story

Print This Post