By Laurie Hindman
Berthoud Recorder
Middle school students not involved in sports often find few organized activities after school. The Berthoud Library offers a fun haven for middle-schoolers on "Teen Tuesdays," a program funded by Friends of the Berthoud Community Library District. The program is held every Tuesday, from 3 to 4:30 p.m., September through May.
"I found there was nothing for this age group to do," said Erika Siebenthal, the library's Youth Activities Coordinator. She explained that although the program was designed with middle-schoolers in mind, they don't turn away older kids. "We have some kids that were here three years ago and are now in high school and they keep coming back." She said that many of the kids are "latch key" kids with no one at home after school. The library gives them a place to be with other teens while having some adult supervision and guidance. Siebenthal said it brings a diverse group together. "They end up spending time with kids that they might not hang out with at school, but here kids from different cliques merge and it works. We have a lot of fun."
Each Tuesday afternoon anywhere from three to 15 teens hang out at the library, playing board games, watching movies, doing arts and crafts, playing charades — "whatever they decide to do," said Siebenthal. The kids gather in the meeting room, where the library rules are a little more relaxed –– the kids talk above whispers, use cell phones or listen to iPods. They also bring in music to share, as long as it doesn't have inappropriate language. As an added bonus, students can receive help with homework. "Every once in awhile they have something I can't help them with, but usually one of us on staff are able to help."
Once a month, when the Friends of the Library are using the meeting room, the group ends up at the community center and enjoys the bigger space to play dodge ball or other more active games. "It would be great if we had more funding down the road and could include some field trips," wished Siebenthal.
Siebenthal has abundant experience working with kids. She has a teaching degree in elementary education and taught kindergarten through third grade for three years. Her most recent job before coming to Berthoud was after-school coordinator in Hawaii where she organized games, activities and field trips for a diverse age group. Although Berthoud's "Teen Tuesday" is small by comparison, Siebenthal said it grows a little each year. "Word spreads that it really is a cool place to be. We have a great time together," Siebenthal said with a smile.
News Image: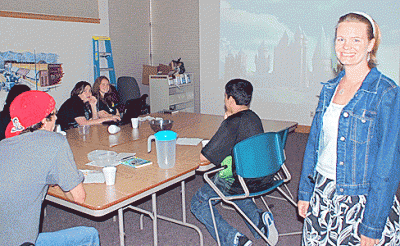 Long Description:
<p>Youth Activities Coordinator for the Berthoud library, Erika Siebenthal, and a group of teens watch a Harry Potter movie at last week&rsquo;s Teen Tuesday. Every Tuesday, 3 to 4:30 p.m., from September through May, the library offers activities and homework help for middle school students. For more information, call the library at 970-532-2757.</p>
Category Lead:
Category Primary Featured Story

Print This Post