Craftsmanship, Mentoring and Artistry Back in Style
By Jamie Folsom
Berthoud Recorder

For years, craftsmen like Don Hildred gave presentations at museums and outdoor history events. Phrases like "make the anvil sing" and "strike while the iron's hot" were quaint tidbits from America's past, steeped in visions of aproned men covered in soot, bent carefully over glowing pieces of metal.

But more recently, Hildred, who's been blacksmithing since 1979, has been sharing his craft at events like the Sustainable Living Fair. Setting up his mobile shop with forge, anvils and metal stock near the solar panel and alternative fuel vehicle tents, Hildred says it's time to think about the future.

"I'm turning things over to the younger generation," he said as the ringing of the hammer drew a new crowd of families to watch.

In fact, Hildred was only at the fair for one hour, filling in for his good friend and up-and-coming blacksmith Chase Carlton. An aspiring mechanical engineer, Carlton got involved with a blacksmithing guild in Grand Valley, and, along with his friend Fuzzy Conley, put an ad on Freecycle looking for someone willing to let them set up a smithing shop in a back yard. Hildred responded with better — access and mentoring in his LaPorte shop.

Since then, it's grown into a real passion for Carlton, who sees "the next generation is really getting involved, getting back into making things" in the trades and crafts industries. "I'm really excited now."
Craftsmanship in Berthoud
A light dusting of wood chips flies from the next tent down the fairway as Berthoud High School industrial technology/pre-engineering teacher Robb Sommerfeld guides a young hand on the woodlathe. As a team, they are turning a piece of pine that could wind up as a pen handle, a crochet hook, a paper weight or even a magic wand. Sommerfeld also looks to the future of the trades.

"The response this year was awesome, and it just continues to get better and better," he said. And after demonstrating wood turning techniques for more than 800 visitors to the booth during the SLF, and helping over a dozen kids turn takeaway items, Sommerfeld is gearing up for fall and the holiday season.

"It's exhausting," he said, but the response from people is energizing — from people who are looking for classes to those wanting to contact artisans and craftspeople to purchase items of stone, wood and metal. And beyond building the skills and pride in making things by hand, there's a growing market for their products.
Sommerfeld and some of his BHS students set up demonstrations and sale tables at the SLF, the homebuilders and remodeling show in late spring, and Fort Collins BeLocal markets that run weekends from November to March.

Last year alone, BHS senior and woodworker Jared Schneider made $600 selling handturned hardwood pens and wine bottle stoppers. He got his start two years ago in Sommerfeld's Construction I class because he "thought it would be fun." Since then it's definitely become more than a hobby.

For Carlson as well, the work of blacksmithing is more than a passing fad. And although it is not part of his career path, he says he knows "it will always be a part of my life."
---
A National Movement
Jared Schneider and Chase Carlson are among the growing number of young people who are taking up the trades and getting involved in networking through the National Center for Craftsmanship, a professional organization for artisans, carpenters, metal workers, blacksmiths and stone carvers.
As assistant director for the NCC subgroup Craftsmanship Network, Sommerfeld believes a resurgence of the trades is a sign that those who don't choose college aren't necessarily opting out of exciting and meaningful opportunities.
More online: www.CraftsmanshipNet.org.
News Image: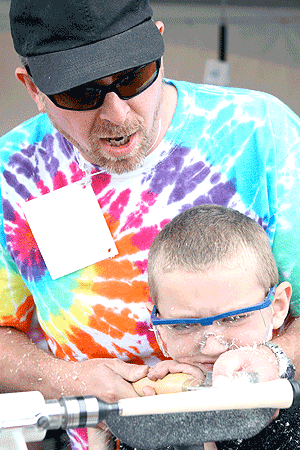 News Image: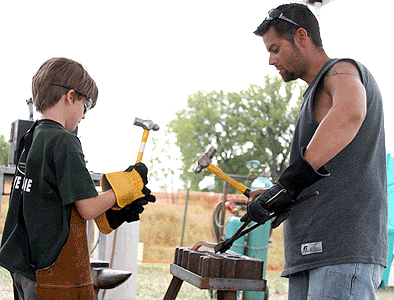 Long Description:
<p>BHS teacher Robb Sommerfeld guides the hands of Morgan Pierce, 9, as he turns a pine rod on the lathe. Pierce&rsquo;s mother Sima said their family attends the Sustainable Living Fair every year specifically to find the craftsmanship tent and &ldquo;make stuff.&rdquo;</p>
Long Description:
<p>Donovan Starkweather, 9, of Rist Canyon gets a quick lesson in metal work from welder Matt Tucci. Donovan made what he thinks could be a large spoon or maybe just &ldquo;a cool thing.&rdquo;</p>
Category Lead:
Category Secondary Featured Story

Print This Post