By Shari Phiel
Berthoud Recorder
For some it was the end of an era, for others it was an opportunity to pick up a few good deals. On Friday, Sept. 18 more than 100 bidders filed through the now closed Champion/Summit Crest facility as everything from small items like pipe fittings, brass fixtures and bags of nuts and bolts to larger items like compressors, furnaces and water heaters were auctioned off at rock bottom prices.

Kirk Erickson, a Greeley man, who buys items at auctions like the one at Champion and then resells them online, said that despite the tough economic times he was looking to pick up some deals, "If the price is right."
Champion Enterprises, based out of Troy, Mich., operating as Summit Crest Homes announced in early July that it would be closing the Berthoud facility, along with another operation in Woodland, Calif., due to economic constraints the company was facing.
At one time, the Berthoud facility employed more than 200 workers, although that number had dropped by more than half at the time of the announced closing.

Even with the reduced workforce numbers, Champion was still one of the largest employers in the Berthoud area, and its closing will undoubtedly have long-term impacts on the community.
One former employee, who asked to remain anonymous, isn't convinced the closing is entirely due to the current economy. "I think there was definitely some mismanagement," he said noting modular homes sales tend to fare better during a recession.
Champion Enterprises has 27 manufacturing facilities located throughout the U.S., Canada and the United Kingdom and builds modular homes along with modular buildings for government and commercial developments.
Sales for the second quarter of 2009 were $129.5 million compared against $289.2 million for the same quarter in 2008, representing a net loss for the company of $13.3 million. This comes on top of losses of $17.6 million for the first quarter of 2009.
What will become of the 100,000-plus square foot facility is anyone's guess. Both the Berthoud Board of Trustees and the Berthoud Economic Resource Team are working to market the facility to primary employers looking to move to the Front Range area or those looking to expand their existing operations.
At the Sept. 15 joint session meeting with the BOT, BERT, the Planning and Zoning Commission and the Utility Advisory Board, guest speaker Daniel Kah of Greyhill Advisors noted that very few, if any, primary employers are looking at undeveloped "green fields" but instead are focusing on modifying existing facilities.
"Most projects are time sensitive," said Kah. "They need to be up and running now.
With the opening of the Vestas Wind Systems facility in Windsor, there is a growing need for space for supply chain companies providing products to the wind-blade plant — a need many are hoping the now empty Champion facility can fill.
News Image: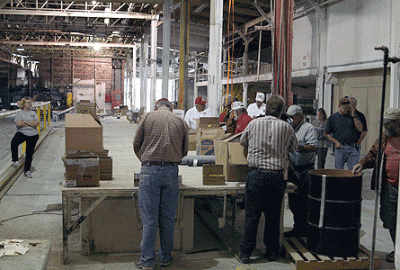 Long Description:
<p>There was no shortage of bargains to be had at the Champion Home auction. Doors, windows, siding, furnaces and water heaters were up for bid well below retail price. Many smaller items like bathroom fixtures, hardware, pipe fittings and hand tools sold for less than $20.</p>
Category Lead:
Category Secondary Featured Story
Home Lead:
Home Page Primary Featured Story

Print This Post