By Shari Phiel
Berthoud Recorder
Like many charitable organizations, the House of Neighborly Service has seen marked increase in new clients and requests for assistance. Linda Hirsch, manager of the Berthoud location, said the number of clients seen each month has doubled, tripled or even in some cases, quadrupled.
"Since last January, we've been up between 40 and 50 percent. New clients are up about 180 percent — in other words, people who come through the door that have never asked for our help before," said Hirsch.
Even just a slight increase in the number of clients coming in for assistance can represent a big increase in the percentages. "If we see four or five new clients in a month, that's astronomical," Hirsch added.
They have even begun to see four or five new clients coming in on a weekly basis, although not every week. On average, the Berthoud office serves a total of 30 to 55 clients per month.
Housed in the First Presbyterian Church at 531 Eighth St., HNS has been serving clients in Berthoud for almost 20 years. The Loveland office was established by a group of local pastors in 1961 to provide assistance to those in need.
The organization offers a variety of assistance to low-income clients in the southern Larimer County area. Food baskets, clothing, help with utilities payments, transportation and prescription vouchers are among just a few of the many services they offer.

The upcoming Thanksgiving and Christmas holidays will be a busy time for HNS volunteers. Like many charitable organizations, the House of Neighborly Services sees a notable increase in donations during the holiday season. They will also participate in the Christmas in Berthoud festivities.
"Every Christmas since we've begun, we've had a special Christmas program. And I think we'll really be involved with Christmas in Berthoud this year," noted Hirsch.
Hirsch says while they are lucky to have the level of support they receive from the United Way, many of their donations come from local church groups, businesses and private individuals. In addition, First Presbyterian Church donates the use of space for storage of food and other items that go into the food baskets along with use of the building for processing clients.
The organization doesn't just support individuals in the community but also some local businesses as well. All of the meat used in the food baskets for both the Berthoud and Loveland offices is purchased from Hays Market.
HNS is also one of the newest members of the Berthoud Area Chamber of Commerce and just recently had their official Chamber ribbon cutting ceremony on Tuesday, Sept. 15.
For more information about making a donation or becoming a volunteer, visit their Web site at http://HONService.org [1] or call Linda Hirsch at 970-532-0161.
News Image: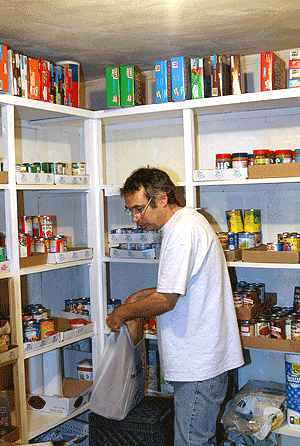 Long Description:
<p>Longtime HNS volunteer Louis Recchia fills a food basket to be given to one of the organization&rsquo;s clients.</p>
Category Lead:
Category Secondary Featured Story
Home Lead:
Home Page Primary Featured Story