By Gary Wamsley
Berthoud Recorder
The Community Kitchen of Loveland has found a new home. The 13-year-old organization has to vacate the historic Presbyterian Church by next spring because the facility does not meet current requirements for a commercial kitchen. A diligent search for solutions by its board led to a symbiotic relationship with the Meals on Wheels of Loveland and Berthoud. The Meals on Wheels had excess kitchen capacity, but lacked seating for the 70 diners a day, seven day a week operation of the Community Kitchen.
Under the agreement between the directors of the two organizations, Meals on Wheels will expand its present building to have seating for the Community Kitchen. Grants from the Erion Foundation and Kroh Charitable Trust provide a sizeable portion of the estimated $200,000 construction cost. Fundraising will be needed to obtain the remainder. Furnishing of the new space will be the responsibility of the Community Kitchen and represents a new expense for them.
The two organizations will remain separate with their own staffs and volunteers. Meals on Wheels will prepare meals for the Community Kitchen in addition to the 235 they presently prepare for delivery to their clients; and Community Kitchen volunteers will serve the meals and maintain the dining room.
Sally Wabeke, president of the Community Kitchen Board of Directors, said the cost per meal will be slightly higher, but the meals are prepared under strict guidelines and under the supervision of a dietician. She added, "and for the first time in 13 years, we will be handicap accessible."
Both organizations depend heavily on volunteers. After the move, the Community Kitchen will lose its one employee and be completely staffed by volunteers. Meals on Wheels depends on volunteers to deliver its meals five days a week. Many Berthoud residents are among those who volunteer their time and automobile. While many of them serve Berthoud clients, several have delivery routes in the surrounding area.
Category:
News – Community
News Image: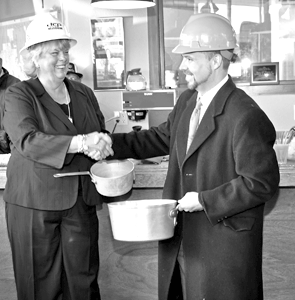 Long Description:
<p>Sally Wabeke, president of the Community Kitchen board of directors, and Joseph Findley, board president for Meals on Wheel, don hard hats and hold on to pans instead of shovels while they celebrate the symbolic ground breaking for expansion of the Meals on Wheels facility at Fifth St. and Garfield Ave. in Loveland. The expansion will house the Community Kitchen dining room.</p>
Category Lead:
Category Primary Featured Story

Print This Post