By Sandy Barnes
Berthoud Recorder
After traveling all over the world and living in many different places during her life, Dorothy Turner Everette, the great-granddaughter of Berthoud founder Peter Turner, recently decided to come back home. She is now living at Sugar Valley Estates, a retirement community in Loveland not far from her childhood home north of Berthoud.
"I decided to come back to where my roots were," said Everette. "I'm meeting more and more people I went to school with," she added. Everette also is well acquainted with Berthoud patriarch Dr. R.B. "Doc" Fickel who cared for her teeth as the Town dentist when she was in junior high school.
While talking about her experiences and her family history over lunch, Everette was in the company of another resident with ties to Berthoud, Judy Reary whose grandfather was Berthoud physician J.D. Howell.
Living in a retirement community is not a new experience for either of the women. Both moved to Sugar Valley Estates after living at other Holiday Retirement properties designed for senior adults. A year-old property with 117 units on three levels, this independent living community offers a variety of accommodations ranging from studio suites to two-bedroom, two bath apartments.
Both women say they enjoy the lifestyle at the residence and the services and activities the staff provides for them. An executive chef oversees the preparation of three meals a day, the price of which is included in the monthly rent. Reary uses the bus service also included in the plan for errands and appointments.
"We enjoy the Holiday concept so much," said Everette. Among the benefits is the opportunity for residents to stay at another Holiday property for a week rent-free, explains Manager Don Donahoo.
The monthly rent at Sugar Valley Estates ranges from $1,675 to $3,750 per month for individuals. This cost includes three daily meals, two sets of live-in management teams, weekly housekeeping and linen service, an emergency response system, paid cable TV and utilities and on-site laundry facilities. A second person sharing an apartment pays $450 a month.
Presently, 34 residents with an average age in their early 80s are living at Sugar Valley Estates located on Georgetown Road near the intersection of Taft Boulevard.
Sugar Valley Estates has an activities director who arranges outings and social events for residents. Situated in the spacious facility with an open floor plan are a library, chapel, beauty salon and barber shop, along with fitness and billiards rooms. Pets are permitted, if residents wish to bring them when moving to the community.
"We love our home," said Reary.
For more information about Sugar Valley Estates, call the office at 970-669-2317 or visit the Web site at www.sugarvalleylife.com [1].
---
Note: This is the first in a series of articles about area retirement communities for senior adults.
News Image: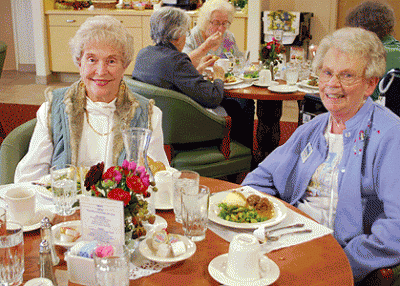 Long Description:
<p><span style="font-size: small;"><span style="font-family: arial,helvetica,sans-serif;">Sugar Valley Estates residents Dorothy Turner Everette and Judy Reary pause for a photo during their dinner meal in the dining hall.<br /> </span></span></p>
Category Lead:
Category Primary Featured Story