By Deborah Huth Price
Berthoud Recorder
Once, while on a bicycle ride with my husband, I asked him which way to move the lever to go to a lower speed. Instead, he gave me a complete explanation of how the gear mechanism works. This was not surprising, coming from an engineer, but I just wanted to take a ride.
Sometimes I feel that way about bicycle riding in general. I am a little more than intimidated by the hard core bikers, leaning over the handlebars in their spandex pants and bicycle shoes.
I'm not planning to do any rides over mountain tops, compete in any races or test my endurance. I just want to ride.
With this thought in mind, I dug out my old Schwinn bicycle, a garage sale find, from the corner of the garage where it was busy collecting spider webs and dust bunnies. After adding a little air to the tires, I took it out for a spin. Other than the squeaky brakes and a few other noises, it was a pretty comfortable ride. It has a nice, big seat instead of the pain-inducing post on most bikes and large handlebars that allow me to sit upright instead of hunched over like a horse jockey. Add a basket on the front handlebars, and my husband says it would look like the wicked witch's bicycle from "The Wizard of Oz."
After a few outings, I decided that it would be a good idea to get it looked over by a bicycle mechanic to make sure I didn't end up in a ditch somewhere. When I walked into Breakaway Cycles in Loveland and told them I wanted them to take a look at my old bike, I don't think they were expecting the 1970s vintage Schwinn. The bicycle appeared to be in good shape, however, and only a tune-up and new brake pads were suggested (they probably took photos of it after I left).
Later that week when I picked up my new transportation, it looked shiny new. The cobwebs and dust were gone, the brake pads thick and firm, and the seat beckoned me to jump on and ride. It took me back to the days of riding bikes with friends after school, just for the fun of it.
In my search for recreational bike riding information, I came across an appropriate Web site, www.Bicycle-Riding-for-Boomers.com. Ah, yes –– the realities of doing a non-competitive exercise are recognized, thanks to the ever-increasing senior population bulge. You can even find out about alternative bicycles on the site like recumbent, adult tricycles and even electric tricycles. It makes my first ride as a tot look oh-so-boring.
With all the recreation trails available in the Northern Colorado region, you don't have to go far to get outside and enjoy a safe, recreational ride. In addition, bicycling is a good way to get in shape. Even riding at a fairly slow speed, you can burn from 300-500 calories per hour.
My bike is ready, my helmet is on –– it's time to go for a ride. Maybe I'll add some streamers to the handlebars.
---
For Bicycle riding safety and maintenance tips, including how to safely shift and steer your bike, visit http://Bicycle.Lifetips.com/cat/60243/safe-bike-riding-tips.
---
Deborah Huth Price is Education Coordinator at Bobcat Ridge Natural Area near Masonville, and also works at the Fort Collins Museum & Discovery Science Center.
News Image: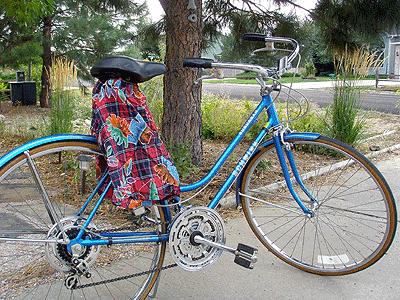 Long Description:
<p><span style="font-size: small;"><span style="font-family: arial,helvetica,sans-serif;">Forget the spandex &ndash;&ndash; put on some cool shorts and take the Schwinn out for a spin.<br /> </span></span></p>
Category Lead:
Category Lead Story

Print This Post