By Dani White
Berthoud Recorder
The upbeat, offbeat chick comedy "Whip It" rolls merrily into theaters nationwide on Friday, Oct. 2. In all honesty there were three major reasons I decided to see the film. Reason one: it's about roller derby. Reason two: idle curiosity concerning the meaning of the title. Reason three: the film is Drew Barrymore's directorial debut.
The upshot was happily rewarding: "Whip It" is fun, quirky, hilarious, serious and sincere with a brilliant cast of leading ladies. The femme-friendly flick is the adaptation of the novel "Derby Girl." The novel's author, Shauna Cross, was also the screenwriter of "Whip It," ensuring a smooth transition from page to screen. Although the basic story is common, Cross skillfully interweaves bold twists giving a funky, new life to the could-be-generic plot. The setting and wardrobe are amazingly realistic and textural, supplying complimentary ambiance to the film.
As a first timer behind the camera as director, well-known actress Barrymore laces up the film with her own unmatchable flare and memorable character development. The alt-heroine Bliss Cavendar, portrayed by the talented hipster Ellen Paige ("Juno"), is a 17-year-old working-class Texan tired of her mother's vicarious activities and expectations, namely concerning beauty pageants. The rebellious juvenile eventually finds an unconventional way out of small town life by making it onto a big city Roller Derby team.
Bliss hoodwinks her parents by convincing them that she is taking an SAT class and instead rides a free Bingo bus to Austin for skating practices. There are many touching avenues in this film, especially the authenticity of the characters and their relationships. The vivid bond and kick-butt mannerism established by the empowered roller derby ensemble, a lovingly dysfunctional family narrative, a best friendship, a kind-of young, misfit love story and genuine humor make for a perfect hodgepodge of sensibility amid the intense, fast-paced, full-contact derby battles.
The nearly two-hour riot "Whip It" is a joy ride worth every penny and the immediate hankering to strap on a pair of roller skates.
---
"Whip It"
Director: Drew Barrymore
Starring: Ellen Page, Marcia Gay Harden, Kristen Wiig, Drew Barrymore, Juliette Lewis, Jimmy Fallon, Daniel Stern, Eve, Zoe Bell an Landon Pigg
Screenwriter: Shauna Cross
MPAA: PG-13, Runtime: 1 hour, 51 minutes
Reviewer rating: 3.5 out of 5 stars
Category:
Variety – Price of Admission
News Image: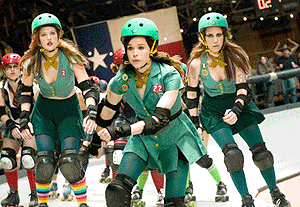 Category Lead:
Category Lead Story