By Michael Hicks
Berthoud Recorder
LOVELAND –– He had never been to a hockey game before much less a National Hockey League game, but there was 9-year-old Sam Allen on Sept. 23 with his short brown hair and orange jacket on at the Budweiser Events Center. The Fort Collins resident was watching the Tampa Bay Lightning and Phoenix Coyotes in one of the final preseason games before the season starts for real next month.
How cool is that?
"I know," Sam said. "I'm here because I want to see our team get those scores into that goal right there."
But who's "our" team?
"The one over there," added Sam, pointing toward the far end of the ice. "I just want to see the goals here."
Our team would be the Lightning, newly-affiliated with the Central Hockey League's Colorado Eagles, and the goal would be the one some 15 to 20 rows in front of the seats that Sam and his father, Joe, a teacher at Fossil Ridge High School, had in Section K.
Sam, who earlier in the day had braces put on, got his wish early on when Tampa Bay's Ryan Malone scored in the game's first five minutes in a 4-3 Coyotes shootout victory. His dad didn't know if they would make it to the game because of the braces, but Sam did. He wasn't going to miss this for anything.
"Nope," Sam said.
The players weren't either, in particular Tampa Bay rookie Victor Hedman, who was looking forward to seeing the Loveland crowd, even though his team was playing its third game in three days after games in Regina, Saskatchewan and Everett, Wash., the days before.
"It's just great. It's good to be around. It's a nice rink they have over here. It's a beautiful country. It good for me to see for the first time," Hedman said.
While Sam and the Tampa Bay players weren't going to miss this opportunity neither were Wendell Burner, 24, and Annaliese Langness, 24, also of Fort Collins. Burner, in his Colorado Avalanche jersey, came to watch Tampa Bay's Vincent Lacavalier and Hedman. Langness came along just "because it's fun to come."
The couple typically attends Colorado Eagles games. They went to four last year. But, most likely, you'll find them at Denver's Pepsi Center, where they'll go seven or eight times a season to watch the Colorado Avalanche.
Burner's been a fan since he moved to Colorado from Texas in 1996 — the Avalanche's first season. Before that he wasn't much of a hockey fan at all.
"I don't think I knew who the Dallas Stars were," Burner said.
Fortunately, for the Allens, as well as Burner and Langness they didn't have to pay the $45 to $85 tickets were going for, more than 50 percent higher than what Burner is used to paying for an Eagles game. He'll pay twice as much to see the Avalanche. But they all got freebies on this night. Yet, nevertheless, they wanted to get their, um, money's worth. Eagles General Manager Chris Stewart thought they would.
"(They're) going to see 10 of the best young players in the NHL on the ice. At the same time it is going to be a very spirited affair and very well-played hockey game," Stewart said prior to the game. "It's not your average lineup."
It wasn't your average game, either. Two teams with few ties, other than the Lightning's affiliation with the Eagles, playing in Loveland in the first NHL preseason game at the BUD since the Avalanche and Florida Panthers squared off six years ago.
"It's very unique that way. Logistics look a little bit funny but that's just how the hockey world is," Stewart said. "The National Hockey League and its affiliations their options are kind of spread out all over the place. It's where we're at right now."
Tampa Bay veteran Martin St. Louis was familiar with the working affiliation with the Eagles and he was impressed with Colorado's setup.
"This environment, this setup provides young players (a chance) to prepare themselves. It's a nice facility," St. Louis said. "Being in this locker room is a privilege. I've been in worst on the road in the National Hockey League level."
The game provided memories that folks in these parts wouldn't normally have had the opportunity to make. Sam, besides the memories, took something else home as well.
"I got this hockey puck for only $1. It's not real but it's good to play with," he said.
The puck may not have been real, but the action on the ice was. That's all that mattered.
News Image: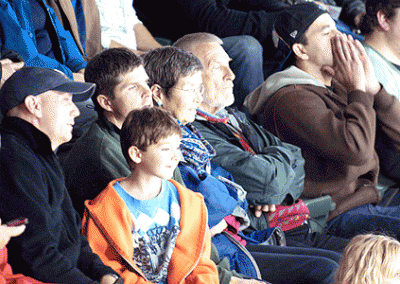 News Image: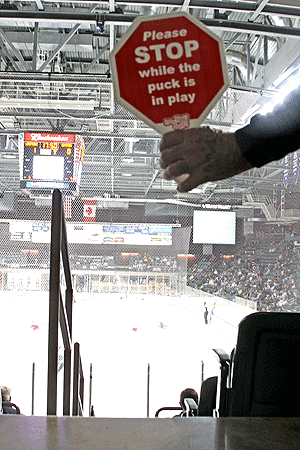 Long Description:
<p>Sam Allen, 9, enjoys his first hockey game as the Tampa Bay Lightning take on the Phoenix Coyotes at the BEC.</p>
Long Description:
<p>When the stop sign goes up, even the press have to wait for a break in the action to enter the stands. Budweiser Event Center staff member Ken Hilt has enforced fan etiquette for over four years, including Colorado Ice football and Eagles hockey, wrestling matches and Disney on Ice.</p>
Category Lead:
Category Lead Story

Print This Post