By Sandy Barnes
Berthoud Recorder
Glorious days with deep blue skies and golden hued trees provide inspiration for an autumn stroll. Several nearby parks offer ample opportunities for hikes on the easy side featuring seasonal and artistic beauty.
A short drive to Loveland brings you to Benson Sculpture Park just off Taft Avenue. Along with beautiful landscaping, there are many interesting works of sculpture to enjoy as you amble along the level walkway. To reach the park, travel north on Taft to 29th Street and turn right. You will find parking on Aspen Drive on the left at the edge of the park.
Another nearby recreational area that is a bit more of a challenge — but worth the effort — is the Devil's Backbone Open Space off Highway 34. A few short miles heading west on the highway from the intersection of Wilson Avenue in Loveland brings you to the area on the right side of the road. Look for the sign pointing the way. Cottonwood trees are in the process of their golden transformation at this area, which has a nice picnic spot. A fairly gentle climb on the trail will bring you to a good view of the rocky "backbone," as well as a panoramic glimpse of the Rockies on a clear day. When hiking here, please stay on the trail and keep an eye out for rattlesnakes.
If you have a whole morning or afternoon to spare and would enjoy a drive to the Estes Park vicinity, a lovely and easy hike is the trail around Lily Lake in Rocky Mountain National Park. Traveling to Lily Lake via Highway 7 from Lyons, you also will have the opportunity to gaze at stands of golden aspens along the way. Because of its location, there is no entrance fee to this portion of the national park. To get to the area, take Highway 287 to Highway 66 and turn right. Continue driving to Lyons and then turn left onto Highway 7. After driving about a half-hour or so, look for the Lily Lake parking area on your left. You will see it a couple of miles after passing the Long's Peak viewing area.

News Image: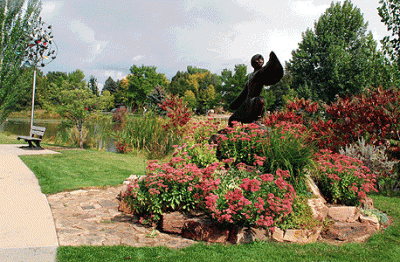 News Image: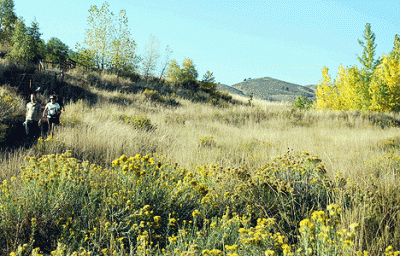 Long Description:
<p>The Benson Sculpture Park in Loveland features many interesting artistic works such as this one along the landscaped path.</p>
Long Description:
<p>Golden cottonwood trees are part of the fall scenery at the Devil&rsquo;s Backbone Open Space off Hwy. 34 near Loveland.</p>
Category Lead:
Category Primary Featured Story