By Dani White
Berthoud Recorder
Spandex, kneepads, roller skates and formalwear are just the highlight of this year's FoCo Girls Gone Derby signature "Black and Blue Ball." The derby girls of Fort Collins will be pummeling, stylishly into the Rollerland arena with full contact speed skating and evening dresses.
The fourth annual event genially mocks the concept of formal dances and will feature new recruits as "debutantes." The season starting bout (derby match) is the most entertaining FoCo Girls scuffle of the year. The FoCo Girls were the first to achieve official certification from the Women's Flat Track Derby Association, bringing derby back to the area in 2006. The old-fashioned quad skate sport had waves of popularity in the '70s, the '90s, and has presently resurfaced in a rambunctiously engaging way.
There is a heavily competitive, athletic attitude driving an edgy feminist spirit of camaraderie and exhibition in contemporary derby. Nationally registered alter-ego epithets of contending derby girls such as, 'Sequin Destroy' and 'Poison Divey,' are classic examples of the feminine yet-aggressive fundamentals and appeal of this all-girls sport.
Although derby is fast-paced and hard-core, there are rules and strategies to mayhem. The bouts occur on an even circuit track where blockers skate as pack, the pivots control the speed at the front of the pack, and jammers earn points for the team. The lead jammer is the first one of the two through the pack without a penalty. Each jammer then earns a point for each opponent she passes through the turbulence of the hip checks and booty blocks.
The FoCo Girls Gone Derby League is composed of three teams. Kung Fu Donnas is the travel team. The two home teams, Deathrow Dolls and Chanel Cartel, will be facing-off at the Black and Blue Ball for the first time since June. The FoCo Girls will begin their season of rivalry all dolled up and invite attendees to dress their best for the occasion. This is one ball you won't want to skip.
Next week, we'll take a look at Greeley's league — The Slaughterhouse Derby Girls.
---
FoCo Girls Gone Derby  "Black and Blue Ball"
Were:
Rollerland Skate Center, 324 S. Link Lane, Fort Collins
When:
Saturday, Oct. 10
Time:
7 p.m.
For more information go to
:
www.FoCoGirlsGoneDerby.com
[1]
News Image: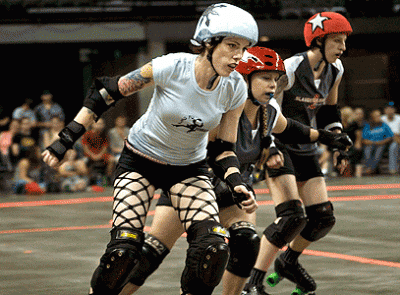 Long Description:
<p>FoCo Girls Gone Derby get ready to hit the track for their annual Black and Blue Ball with music and mayhem. The FoCo Girls will begin their season of rivalry all dolled up and invite attendees to dress their best for the occasion. This is one ball you won&rsquo;t want to skip.</p>