By Laurie Hindman
Berthoud Recorder
Michelle Bowman was living in Mexico when she dreamed she had breast cancer. She also had discomfort in her left breast. Upon return to her home in Berthoud she went immediately to her family physician, who did a thorough breast exam and assured her she had nothing to worry about. Bowman is a registered nurse, a licensed acupuncturist and the director of Longmont United Hospital's Health Center of Integrative Therapies.
"I knew something wasn't right and didn't take no for answer," said Bowman. "I insisted on more testing."
Ultimately, Bowman was diagnosed with stage two breast cancer; stage two is when the cancer has infiltrated the duct system. Bowman had one lymph node test positive for cancer. Bowman said if she hadn't fought for additional tests, the cancer would have spread.
Bowman's bottom line: women must advocate for themselves and listen to their intuition.
Just the beginning
"My diagnosis was just the beginning of my self-advocacy," said Bowman. She explained that there is a wide variety of opinions and research on the treatment of breast cancer. Cancer patients must negotiate a labyrinth of information, advice and treatment options.
"I adamantly believe a woman should not proceed with treatment without getting more than one opinion."
In her own case, the initial oncologist she saw recommended 16 chemotherapy treatments. She felt immediately it was wrong for her. Bowman found a breast cancer specialist who, in addition to surgery, prescribed just four chemo treatments.
"The additional therapies — chemo, radiation, hormones — are adjunct, 'just in case' treatments. Women have to decide for themselves. Sometimes treatment is way overdone."
Bowman admits this is not easy. "When you are given a cancer diagnosis, taking care of yourself becomes a full-time job." Bowman said doing the research, meeting with doctors, receiving chemo treatments, going in for blood work and other tests, dealing with insurance companies — it became all consuming.
Finding your way
A good place to start, said Bowman, is by finding a doctor who attends the annual beast cancer symposium in San Antonio, Texas. "The symposium brings together cancer researchers, doctors, nurse practitioners — anyone who delivers health care for breast cancer patients. They present and discuss the latest research and treatment."
In addition to chemotherapy, Bowman had a mastectomy. "After I got my diagnosis, I talked to many breast cancer survivors. Every single one had had a lumpectomy. Later the cancer returned and they required a mastectomy. I thought what is God trying to tell me? I didn't meet women, and there are plenty of them, who had lumpectomies only."
Bowman believes she made the right decision. "The doctor told me afterwards that my breast was riddled with cancer cells."
Bowman states firmly that she is not recommending all women with breast cancer get mastectomies. "Every woman's journey is different. What I am advocating strongly is that women get informed by getting multiple opinions and then listen carefully to their own intuition. I wanted more than anything to have the coveted lumpectomy. But that was not what my intuition was guiding me towards."
There were other factors Bowman had to consider when making the decision to have a mastectomy. "I had an 11-year-old daughter I still had a child to raise. I wanted to see her grow up, see my grandchildren."
Bowman said because of her position with Longmont Hospital, she had access to and knowledge of, alternative treatments that contributed greatly to her strength during her cancer treatments and her recovery.
To combat the side effects of the chemotherapy, Bowman had acupuncture before and after every chemo dose. "I never had vomiting and I was able to exercise after every treatment." Bowman also had regular massages, including lymphatic massage. "I saw a manual lymphatic therapist who taught me how to perform lymphatic drainage on myself. I still do it."
Moving Ahead

"What I want to share with women who are facing cancer is you must get informed — get second and third opinions, talk to other women who have been through it and most of all, trust your own inner guidance. If something does not feel right to you, it probably isn't."
---
Find Out More
Bowman is giving talks on breast health in the Longmont area. On Tuesday, Oct. 20, at the Longmont United Hospital Gallery, from 6 to 7:30 p.m., Bowman will be presenting, "The Role of Intuition in Promoting Breast health; Prevention and the Impact of the Environment." For more information or to register call 303-485-4184.
News Image: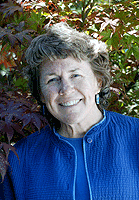 Long Description:
<p>Berthoud&rsquo;s Michelle Bowman is the director of Longmont United Hospital&rsquo;s Health Center of Integrated Therapies.</p>
Category Lead:
Category Primary Featured Story
Home Lead:
Home Page Primary Featured Story

Print This Post