By Michael Hicks
Berthoud Recorder
LOVELAND — With his cheesehat on and Packers pride overflowing, David Besch of Mead made no bones about what drew him to Monday night's myHDTV Electronics ribbon cutting.

"The 92-inch high definition TV and the Packers playing the Vikings," the Appleton, Wisc. native said.
That combination lured in quite a few more, as well. Not to mention the free food and beer being served — it was a tailgate party after all.

The tailgate party was the brainchild of Craig Davis, the owner and operator of myHDTV Electronics. It was his unofficial initiation into the Berthoud Area Chamber of Commerce. His company joined the group in 2006, but never held a ribbon cutting ceremony until now. So why now and why Monday night with the Vikings playing the rival Packers? It's the marketing exposure.
"You wrap around this event with Brett Favre playing for Minnesota, the Packers. It's kind of cool," Davis said. "All of our business comes from referrals. We do very little marketing. I spend all my advertising money on this. If you like what you see, you're going to tell your friends."
It doesn't hurt that a lot of his friends also just happen to be Vikings and Packers fans.
The prices of the HDTVs and other products that Davis offers aren't much different than what you'll find at big box stores, such as Wal-Mart, he said. But the biggest difference, and he showed that Monday, is the service his company offers. It's not just the multi-room audio or video, the light control that Davis' company can provide, it's the personal attention.
"There are a lot of things I like about this business. It's always changing. It's never boring," Davis said. "The enjoyment I get out of it is bringing people together to have a good time. That's fun. It exposes stuff to a lot of people that maybe they didn't see before."
Like Favre wearing a Vikings uniform and against the Packers, to boot.
Besch had his fellow Green Bay fans with him, but, by the looks of things, there were more Vikings fans in the house. Maybe that guy, Favre, the one who used to quarterback the Packers for all those years before going to the New York Jets last year and wavering on retirement — again — before settling on playing for the Vikings this year, had something to do with that.
"Brett Favre going over to the Minnesota Vikings just feels different doesn't it," said Don Dana, the executive director for the Berthoud Area Chamber of Commerce.
Then again, maybe not.
That's not the reason Brent Barstad is a Vikings fan. The Fort Collins resident has been through the good years and the bad, going all the way back to the team's "Purple People Eater Days" and the team's four Super Bowl losses starting in the 1970s. And now that his team has Favre, well, he's still a fan, even if it is a little weird.
"You know, initially, I was conflicted. But the bottom line is he's getting the job done with some serious style. I'm pretty pumped," Barstad said of his team's new starting quarterback.
He can usually be found with his jersey on every week supporting the Vikings. On Monday, he brought on a few extra items, like a Viking helmet and the face paint. But it was all in good fun for the myHDTV get-together.
As for Packers fans, they were looking for a little more. "I think Green Bay's out for revenge. I think they're going to want to hit (Favre), try to teach him a lesson that he went to the dark side," Besch said.
Maybe so, but the Packers didn't do much of that Monday night, losing the game 30-23. Vikings fans can rejoice, and Davis more than made a few new fans in the process.

Category:
Sports & Recreation – View from the Sidelines
News Image: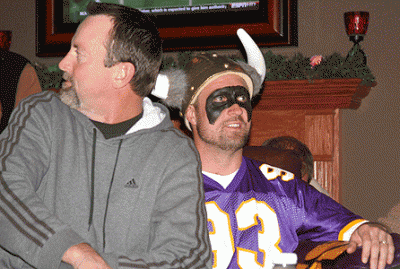 News Image: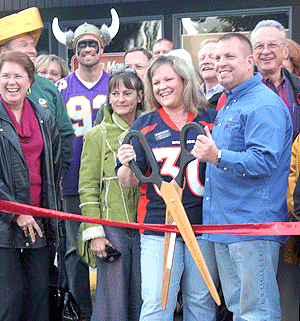 Long Description:
<p>Brent Barstad donned Vikings apparel Monday night while watching the historic game with the Packers at MyHDTV in Loveland.</p>
Long Description:
<p>Owner Craig Davis, with wife Debbie, cut the ribbon during the tailgate party.</p>
Category Lead:
Category Primary Featured Story

Print This Post