By Dani White
Berthoud Recorder
Somewhere over the rainbow and behind the wizard's curtain exists a magically clever origin story about the Witches of Oz before a little girl from Kansas ever touched down with a twister. "Wicked" is a spellbinding theatrical treat for the fall season. The dazzling production, in its sixth year running, has once again beguiled Colorado audiences.
This groundbreaking Broadway spectacle has something for everyone. The show leaves a trail of magic that encompasses a vibrant fairy-tale-brought-to-life ambiance with spectacular visual intricacies and a content-rich plot. Once again the world of Oz has made a triumphant leap from page to stage. The imaginative costumes, intricate mechanical set and outrageous talent are only the top layers abetting this fantastic flight of imagination.
The heroine is Elphaba, an emerald-hued misfit trying to find her place in the world, who stands by her personal convictions despite social expectations. The intelligent young sorceress is gifted with natural abilities to read and cast spells. She meets her counterpart Glinda in a college. Glinda is popular, beautiful and perfect, but untalented when it comes to magic. The two embark on an epic adventure in which all of the existing archetypes of Oz are uprooted along the way. Surprisingly, sympathies lie with the 'wicked' witch.
The new spin on a renowned classic boldly brings the fantasy world of Oz closer to home than ever before. The tale of the young Witches of Oz weaves a brilliant story that examines good and evil in a new light and emphasizes the prevailing redemption of friendship. The show is powerful, tender and a perfect coalescence of dark and light. "Wicked" casts a spell that cannot be broken.
---
Wicked: The Untold Story of the Witches of Oz
When: Through Sunday, Nov. 15
Where: The Buell Theater, Denver
Web site: www.DenverCenter.org
A lottery drawing for $25 orchestra seating tickets (two per person) will be coordinated by the Box Office two hours and thirty minutes before each performance of "Wicked."
News Image: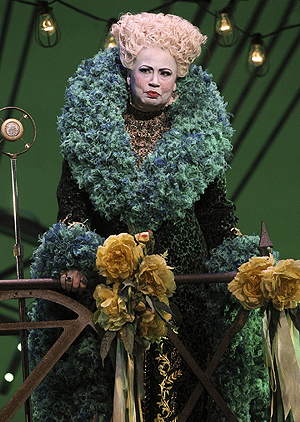 Long Description:
<p><span style="font-size: small;"><span style="font-family: arial,helvetica,sans-serif;">The show-stealing, stunningly detailed costume design of Tony Award winner Susan Hilferty evokes the enchanting world of Oz with extraordinary flair. <br /> </span></span></p>
Category Lead:
Category Primary Featured Story

Print This Post