By Michael Hicks
Berthoud Recorder
The fact that Hannah Kirk and Stefani Messick ran so well wasn't all that surprising. But the fact that the Berthoud runners were neck and neck with each other throughout most of the David Karspeck Invitational at Berthoud High School on Oct. 7 proved to be instrumental in the Lady Spartans' victory in the four-team varsity race.
"I knew they'd run strong," said Berthoud Head Coach Curt Ranweiler, who watched Kirk finish third in 19 minutes, 43 seconds, and Messick fourth just a second behind. "They're running pretty good now that we're back on the healthy side of things."
Their finishes, coinciding with that of three other BHS runners, finishing in the top eight, helped the home team to a 22-32 victory over Brush in the girls varsity race. Berthoud sophomore Emma Otto won the girls race in 18:51, beating out Brush's Sarah Goss by 42 seconds.
Dillon Fagler (20:14) finished seventh and Amy Loberg (20:20) eighth in a field of 40 runners. Brush had five runners in the top 10 and seven in the top 12, but at every turn there was a Berthoud runner one step in front.
"They did what they needed to do," Ranweiler said.
The boys' team wasn't quite as fortunate despite strong finishes across the board. Led by Spencer Golsen's second-place run in 16:40, the Spartans came in second to Brush in the team race. Brush, with top medalist Amos Bowen in 14:52, won with 46 points. Berthoud was second with 51 and Brighton took third with 56.
Berthoud's Nick Divine finished fourth in 17:05, and the Spartans had five runners in the top 20. Brush had four finishes in the top seven.
"We were close. The other boys would like to have finished first. Maybe this will give us a little more fuel to the fire in next week or two," said Ranweiler as his team prepares for the 4A Region 2 meet at Lyons High School on Oct. 22.
---
DAVID KARSPECK INVITATIONAL
Oct. 7, Berthoud High School
BOYS
Team scores: Brush 46, Berthoud 51, Brighton 56, Niwot 74
Top 5 individuals: Amos Bowen, Brush, 14:52; Spencer Golsen, Berthoud, 16:40; Jesse Landeros, Brighton, 17:04; Nick Divine, Berthoud, 17:05; Anthony Rios, Brush, 17:20
Other Berthoud runners: Derek Gwin, 8th, 17:46; Brian Von Seggern, 19th, 18:54; Adam Kemp, 20th, 18:59; Ravi Smith, 21st, 18:59; Mythia Seabold, 29th, 19:50; Ben Fell, 31st, 19:54; David French, 33rd, 20:02; Erik Haas, 36th, 20:21; Nicolas Alexander, 42nd, 20:37; Quinton Urchek, 46th, 22:4, Josh Atkinson, 47th, 22:49; Andrew Pules, 48th, 23:08; Ethan Andersen, 50th, 25:34
GIRLS
Team scores: Berthoud 22, Brush 32, Brighton 97, Niwot 100
Top 5 individuals: Emma Otto, Berthoud, 18:51; Sarah Goss, Brush, 19:33; Hannah Kirk, Berthoud, 19:43; Stefani Messick, Berthoud, 19:44; Mercy Bowen, Brush, 19:54
Other Berthoud runners: Dillon Fagler, 7th, 20:14; Amy Loberg, 8th, 20:20; Julia Leonard, 13th, 21:22; Sarah Loberg, 17th, 22:24; Courtney Dunn, 18th, 23:03; Hannah Otto, 21st, 23:24; Lindsey Loberg, 24th, 23:33; Kathleen Urchek, 26th, 23:46; Shalleyn Fallenbruch, 34th, 28:37; Dani Seat, 36th, 28:40
News Image: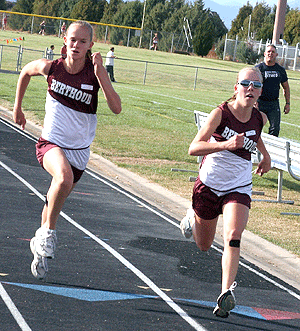 Category Lead:
Category Primary Featured Story

Print This Post