By Dani White
Berthoud Recorder
However entertaining women with crazy leg wear, sassy skirts, quad-skates and pent up aggression may be, the flashy and audacious sport of roller derby is not for the cautious. Derby requires sterling athleticism. There are not many venues where women can knock each other around in the name of sport.
Derby girl Lauren Bishop justifies the intense extremes, "You do it because even when you're so sore, bruised and broken that you feel like you're about to die, nothing makes you feel more alive."
The dauntless ladies of Greeley's Slaughterhouse Derby Girls proudly display the same enthusiasm for the thrill of derby. The league is aptly named with a mark of respect for their Greeley roots as a prominent meatpacking industry. The Slaughterhouse League branches into two teams, The Renegade Brigade and The Marshals of Mayhem and both compete statewide. The league was forged in May of 2008 and has already been accredited by The Women's Flat Track Derby Association.
There is an enticing super heroine quality to derby. A majority of the competing members are mothers, wives and regular women leading a unique double life.
The devoted Slaughterhouse Girls will be bringing their competitive zeal to "The Kill Floor," their home track, on Saturday, Oct.17, to take on the Junction City Roller Dolls. Don't miss the half-time highlight when the Butcher Babes of Greeley's junior derby league, contend in their first exhibition bout.
---
Roller Derby: The Slaughterhouse Derby Girls vs. Junction City Roller Dolls
Where: The Kill Floor, 237 22nd Street, Greeley (just west of the intersection of Hwy. 85 and 22nd Street)
Doors open: 6 p.m. Saturday, Oct. 17; Bout begins: 7 p.m. Costume Contest and other fun
More: www.SlaughterhouseDerbyGirls.com [1]
---
Give it a try!
The Slaughterhouse Girls will be working with all interested recruits on Oct. 21. Even if you have never skated before, the SDG will work with you from the ground up. There are only a handful of recruitment opportunities per year intended for learning the ropes before trying out. Try-outs are offered year-round for recruits or those with previous derby experience or speed-skating skills. More information at www.SlaughterhouseDerbyGirls.com [1].
News Image:
News Image: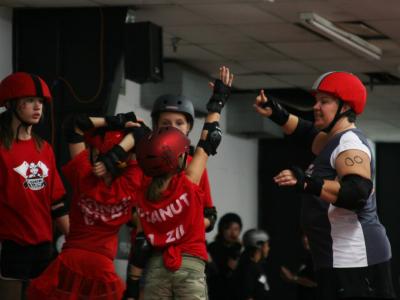 News Image:
Long Description:
<p><span style="font-size: small;"><span style="font-family: arial,helvetica,sans-serif;">Above, The Slaughterhouse Derby Girls are introduced as they skate against the Junction City Roller Dolls from Ogden Utah, Saturday, October 18 at the Kill Floor in Greeley.<br /></span></span></p>
<p><span style="font-size: small;"><span style="font-family: arial,helvetica,sans-serif;">There is a great new premier group of derby girls in town &mdash; the junior league Butcher Babes of Greeley. The enthusiasm driving the wheels of this gallant set of girls between the age of nine and 17 is not surprising, considering their training program. The Babes&rsquo; co-coach/drill sergeant is Danine Ehn, aka &ldquo;K.O. Mama,&rdquo; and Amy Rivera, aka &ldquo;Roller Rat.&rdquo; The Butcher Babes consist of the red team and the black team, who will be competing in public for the first time Saturday, Oct. 17, at the upcoming Slaughterhouse bout at the Kill Floor in Greeley. This minor skirmish will be big fun.<br /> &nbsp;&nbsp; <br /> <br /> </span></span></p>
Category Lead:
Category Lead Story
Home Lead:
Home Page Secondary Featured Story