Double-time Divine: Senior cross country standout makes impact on soccer pitch, too
By Katie Essig
Berthoud Recorder
Having a Berthoud High School student-athlete working twice as hard as most fall season athletes because he was competing in two sports in the same season is somewhat rare. But now Nick Divine, a BHS senior, is doing just that.
Divine is a dual-sport athlete, excelling in both cross country and boys soccer. He's been running cross country for four years, but this being his last year as a high school student, Divine decided to broaden his horizons and compete on the varsity soccer team as well.
"It's my understanding that Nick took on two sports because it's his senior year and his last chance to play soccer," said head cross country coach Curt Ranweiler, who will lead his team to the Oct. 22 4A Region 2 meet at Lyons High School. Berthoud is one of 17 schools in the field. "At first it sounded crazy, dealing with the pressure of two sports in one season. But he seems to be keeping it together."
So how does Divine keep it together?
"So far the schedules for both teams seem to be working well," he said. "My cross country meets and soccer games have landed on different days at different times."
As far as practice time goes for the two sports, Divine says that he works with the cross country team from the time school ends just after 3 o'clock until about 4:30 p.m. Then he goes to practice with the soccer team until that ends around 6 p.m.
And, despite this seemingly hectic schedule, Divine has only had one complication thus far. He had to miss a soccer game with Weld Central, but boys soccer coach John Barron didn't seem to mind.
"I think his playing two sports is awesome," Barron said. "When conflicts do come up, he has a choice to make. But when he does have to miss a game, we have players ready to fill in."
Dealing with the stress and pressure of being a dual-sport athlete hasn't seemed to wear on his skills and motivation for either sport. Divine is excelling in cross country, placing first among the BHS boys at many of the team's meets. He placed 55th out of 213 runners at the Poudre School District Pre-State Invitational last month with a time of 18 minutes, 18 seconds.
He went on to place first among Berthoud runners at the St. Vrain Invitational and Fort Morgan Invite. But he's also doing quite well in soccer this season, scoring a goal in Berthoud's win over Fort Lupton earlier this month.
"The cross country training seems to be helping with his performance in soccer. It's a good way for him to keep healthy," Ranweiler said. Not to mention put him in rare company.
News Image: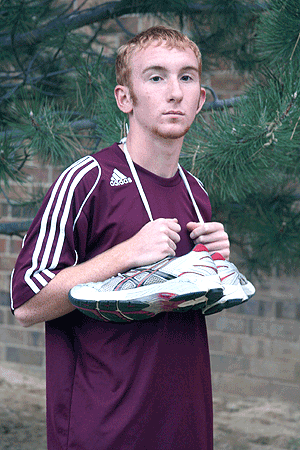 Long Description:
<p>Nick Divine</p>
Category Lead:
Category Lead Story