By Katie Essig and Michael Hicks
Berthoud Recorder
AURORA – First, Berthoud was a win away from the 4A state softball tournament on Saturday at Aurora Sports Park. When that didn't work out, the Lady Spartans played again and were one out away from this weekend's 16-team state field, also at Aurora Sports Park.
That didn't work out, either, and Berthoud's season, unceremoniously, came to an end.
The Lady Spartans (14-8) competed in three games overall at the Region 1 tournament that would determine whether they would be moving on to state or not. Berthoud started off with a win over Pueblo East, 3-1, in its opener.
In the second game, the Lady Spartans played top-seeded Wheat Ridge. The game was slow for Berthoud until the fifth inning where it started to come alive, putting two runners on base but, unfortunately, they couldn't bring them in. They weren't able to produce offensively, but the Lady Spartans played a good defensive game despite one error to hold the Lady Farmers in check.
Nevertheless, the 3-0 loss put Berthoud into the loser's bracket where a rematch with Pueblo East awaited. The Lady Eagles (17-5) set up a second showdown with Berthoud after eliminating Cheyenne Mountain from the tournament with a 12-3 rout.
The second game was evenly matched for three innings before Berthoud broke through with a run in the top of the fourth. Victoria Puchino's double scored Amy Ekart for a 1-0 lead.
But Pueblo East rallied behind three singles and a double in the bottom of the fifth to take a 3-1 lead.
Berthoud responded an inning later with singles from Amy Krause, Kaitlyn Bending, Danielle Wikre, Lindsey Karlin and Megan McGinn and a double from Ekart. All told, Berthoud sent 10 batters to the plate and scored five runs to take what appeared to be a state-qualifying 6-3 lead.
That's where things stood with two outs in the bottom of the seventh. But Pueblo East got two on before a three-run home run off Puchino, who had come on in the fifth in relief of Morgan Thonhoff, tied the game at six.
The teams battled on until the 11th inning when Pueblo East took advantage of a single and two errors before driving in the game-winning run to end Berthoud's season.
Puchino, who ended up with the loss, led Berthoud's 13-hit parade by going 3-for-5. Karlin, Bending, Krause and Ekart all had two hits.
---
REGION 1 SOFTBALL TOURNAMENT
Saturday, Aurora Sports Park
Game 1: Wheat Ridge 15, Cheyenne Mountain 0
Game 2: Berthoud 3, Pueblo East 1
Game 3: Pueblo East 12, Cheyenne Mountain 3
Game 4: Wheat Ridge 3, Berthoud 0
Game 5: Pueblo East 7, Berthoud 6 (11)
News Image: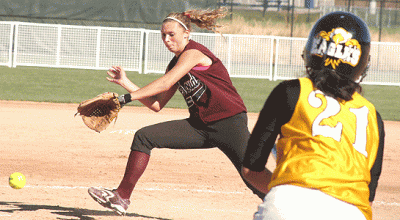 Long Description:
<p>Despite the defensive hustle of starting pitcher Morgan Thonhoff, Berthoud couldn&rsquo;t hold off a rally by Pueblo East in the regional tournament.</p>
Category Lead:
Category Secondary Featured Story