Mountain View 7, Berthoud 6
By Michael Hicks
Berthoud Recorder
Colton Moore lined up for a 30-yard field goal with 49 seconds remaining and his team trailing No. 1-ranked Mountain View by a point. The junior kicker, who had already missed an extra point earlier in the game, lined up on the right hash mark for his first field-goal attempt of the season.
The ball had the distance and the height. The accuracy, however, was just a bit off – wide right by inches. That's how close the Berthoud Spartans came to upsetting the Mountain Lions before suffering a heart-wrenching 7-6 loss Friday night at Max Marr Field.
"It was a little to the left, it looked like at the top," Moore said. "I think I went a little too far to the left."
Nevertheless, Berthoud (4-3, 4-2 3A Tri-Valley Conference) gave undefeated Mountain View (7-0, 6-0) all it could handle and more for 47 minutes. Neither team amounted to much offensively in a game that was scoreless headed into the fourth quarter. That's because the defenses (each got a turnover) held their opponent's offenses in check.
"I just cannot say enough about Troy (Diffendaffer), Jeremy Lanter, Link Lanter, John Washkevish – that's our defensive staff – the job they do in preparing our kids. I say this week in and week out," Berthoud head coach Dan McGinn said. "I'm sure they (Mountain View) got some yardage, but it's nothing like they're typically getting."
The Mountain Lions finished with 260 total yards, but Head Coach Bart Mayes' squad couldn't get on the scoreboard until early in the fourth quarter. That's when quarterback Brennan Stine hit Steve Ryan for a 51-yard strike to the Berthoud 4. One play later, Joey Hlushak scored and Jake Andersen's extra point gave Mountain View a 7-0 lead. The extra point turned out to be the game-winning point.
Though Berthoud had been held in check offensively until this point, the Spartans found a rhythm in the game's final nine minutes. On the ensuing possession, Berthoud drove 55 yards in six plays, capped by a Zach Ruebesam 1-yard run and the deficit was cut to 7-6.
The Spartans got the ball back in the game's final three minutes and drove to the Mountain View 12, but on third down Ruebesam was tackled behind the line of scrimmage setting up Moore's late field-goal attempt.
"I cannot say enough about the stand right here, keeping them out of the end zone and forcing them to try a field goal," Mountain View head coach Bart Mayes said. "If you work hard good, things happen; and they did for us tonight."
Unfortunately for Berthoud, all the good things it did on this night didn't result in a victory. Even one play that should've gone right for Berthoud – a recovered fumble by J.T. Pickert on a punt attempt inside the Mountain View 40 in the third quarter – didn't go the Spartans' way after the officials inadvertently blew the whistle, negating the play.
So instead of a crucial upset, Berthoud came up one point short.
---
MOUNTAIN VIEW 7, BERTHOUD 6
MOUNTAIN VIEW 0 0 0 7–7
BERTHOUD 0 0 0 6–6
MV — Joey Hlushak 4 run (Jake Andersen kick)
B — Zach Ruebesam 1 run (kick failed)
RUSHING: Mountain View — Adam Raberge 2-6, Travis Hediger 1-5, Brennan Stine 9-8, Steve Ryan 16-57, Joey Hlushak 18-71. TOTAL: 46-147. Berthoud — Kent Flynn 20-73, Zach Ruebesam 19-56, Chase Fraser 8-37. TOTAL: 47-166
PASSING: Mountain View — Stine 9-17-0, 113; Berthoud — Ruebesam 1-6-1, 5; Flynn 0-1-0, 0. TOTAL:
RECEIVING: Mountain View — Danny Netzel 1-15, Steve Ryan 6-85, Nick Sipes 2-13. TOTAL: 9-113; Berthoud — Fraser 1-5
TOTAL YARDS: Mountain View 260; Berthoud 171
FIRST DOWNS: Mountain View 11; Berthoud 7
TURNOVERS: Mountain View 1; Berthoud 1
PENALTIES: Mountain View 10-70; Berthoud 2-10
PUNTS: Mountain View 6-221; Berthoud 9-273
---
GAME PREVIEW
Berthoud (4-3, 4-2 3A Tri-Valley Conference) at Sterling (6-0, 5-0)When: Friday, 7 p.m.
Where: Sterling High School
Directions: From Berthoud, take I-25 North to US-34 E, via Exit 257A, toward Greeley. Follow US-34E for 36 miles and merge onto I-76 E. Take the US-6 Exit (Exit 125) toward Sterling/Holyoke. Turn left onto US-6/I-76 BL. The road will become W. Chestnut St., then N. Division Ave. Turn left onto W. Broadway St. The school is at 401 W. Broadway St.
Tickets: $5
Last meeting: Berthoud 34, Sterling 14. Jordan Major accounted for three touchdowns and Kent Flynn scored twice as the Spartans jumped out to a 34-0 lead and stopped a two-game losing streak with a win over the Tigers. The Spartans scored all of their points in the first half but were outgained 329-229 by Sterling. That's because Berthoud ran just nine offensive plays after halftime.
Game notes: Berthoud had a three-game winning streak snapped with a 7-6 loss to top-ranked Mountain View last week. … The Spartans' lone TD came on a 1-yard run by Zach Ruebesam, but junior Colton Moore missed an extra point and a 30-yard field goal. … Sterling is still searching for its first win after dropping a 22-21 decision to Frederick last week. … The Tigers scored just 28 points in their first six games, an average of 4.5 points per game. … Sterling is led by quarterback Jake Baker.
TRI-VALLEY CONFERENCE FOOTBALL STANDINGS
CONFERENCE OVERALL PF PA
Mountain View 6-0 7-0 197 76
Windsor 5-1 6-1 226 122
Silver Creek 4-2 5-2 157 105
Berthoud 4-2 4-3 155 116
Northridge 4-2 4-3 145 110
Roosevelt 3-3 3-4 137 99
Fort Morgan 2-4 3-4 179 134
Frederick 1-5 2-5 54 180
Fort Lupton 1-5 1-6 32 218
Sterling 0-6 0-7 49 190
LAST WEEK'S RESULTS
Windsor 35, Fort Morgan 32
Mountain View 7, Berthoud 6
Silver Creek 35, Fort Lupton 6
Frederick 22, Sterling 21
Roosevelt 18, Northridge 7
FRIDAY'S GAMES
Fort Morgan at Northridge, 7 p.m.
Windsor at Mountain View, 7 p.m.
Berthoud at Sterling, 7 p.m.
Fort Lupton at Roosevelt, 7 p.m.
SATURDAY'S GAME
Frederick at Silver Creek, 1 p.m.
News Image: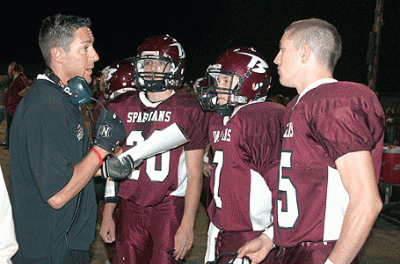 Long Description:
<p>Offensive assistant coach Colby Schultz talks over strategy with Chase Fraser (20), Zach Ruebesam (7) and Pat Conrey during the second half Friday against Mountain View.</p>
Category Lead:
Category Primary Featured Story