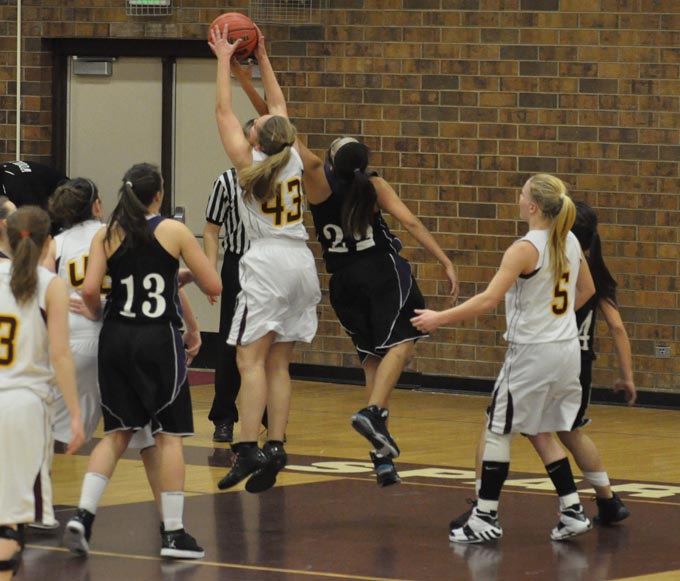 [1]
Box Score            1            2            2            4            OT             Final
Berthoud            8            12            4            9            2            35
Mt View            8            8            9            8            8            41
Both squads had a cold shooting hand in the first quarter and the score remained close. With over 5 minutes played, the score was Spartans 5, Mountain Lions 4. The game was close all the way. Berthoud seemed to have lost confidence in its shooting and was missing both short and long shots. The quarter ended in an 8-8 tie.
The Lady Spartans seemed to be more sure of themselves in the second quarter and after a seesaw battle for most of the period the Berthoud Girls held a 4-point lead, 20-16 at the half.
Offense lacked for both teams in the beginning of the second half, with no score for the first 4 minutes when Mountain View scored a 3-pointer to come with 1 point of the Spartans. The lions then went up by two points and Berthoud finally made a basket with 3:15 remaining in the quarter. They were to finish the period with only 4 points leaving Mountain View with a one-point lead.
The fourth quarter continued with the teams trading baskets, but this time it was always Mountain View who took the lead and Berthoud making the tying basket. Unfortunately for Berthoud, they seemed unable to penetrate the Lions defense and had to settle for the long shots, which for the most part, were not falling. Mountain View took the lead at 30- 33 with 2:40 remaining in the game and neither side seemed to be able to find the basket.
The situation looked bleak until Julia Perry hit a 3-pointer with 45 seconds remaining and threw the game into overtime.
The overtime period was all Mountain View. The Lady Lions scored 2 baskets to go ahead 33-37. Berthoud scored one goal at 1:45 remaining and Mountain View added 2 more baskets to win by a 35-41 margin.
Overall, the Berthoud girls missed many shots they usually make and they missed several free throws that would have made the difference between winning and losing. On the positive side, their ball handling was much better than last week's game and there were substantially fewer turnovers.
Girls to play Saturday at Berthoud.